Delrawn Small's girlfriend gives emotional testimony on day 2 of NYPD officer Wayne Isaacs' trial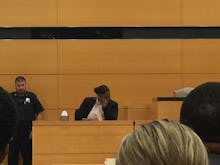 Tears flowed and emotions ran high on the second day of New York Police Department officer Wayne Isaacs' trial in the shooting death of Delrawn Small.
Zaquanna Albert, the late Brooklyn, New York, man's girlfriend, struggled to get through parts of her testimony Wednesday as she recounted watching Isaacs shoot Small to death around midnight on July 4, 2016.
Isaacs, 38, is charged with second-degree murder. He is the first police officer in New York state to be tried under Gov. Andrew Cuomo's 2015 executive order, which gave power to the attorney general to "investigate and prosecute officers for civilian deaths at their hands or in their custody," according to the New York Times.
Albert told the State Supreme Court in Brooklyn that Small was driving her home after leaving a friend's BBQ. She said she was sitting in the front passenger seat of her stepsister's 2016 Kia, with two of their three children in the backseat, when Isaacs' tan Nissan Altima twice cut them off in traffic on Atlantic Avenue.
At a red light a few blocks away, Small exited the car to confront Isaacs, walking up to the off-duty officer's driver's side window, which was rolled up at the time, according to Albert.
"He was saying, 'What the fuck is wrong with you? You just cut us off. You could have killed my family,'" Albert said of Small.
A moment later, Isaacs rolled his window down and fired three to four shots into Small's body, according to Albert, who said Isaacs never tried to aid her boyfriend after he fell facedown on the concrete and bled to death.
"He walked over to the body. He looked at him," Albert said of Isaacs. "I said, 'Why did you shoot? Why did you shoot?'"
"How did the defendant look?" Assistant Attorney General Joshua Gradinger asked Albert.
"Like he ain't give a fuck," she replied.
Albert said she moved from the passenger's seat to the driver's seat inside her vehicle before parking it in the median. Her teenage daughter Zaniyah, now 15, called 911 on her cell phone as a screaming Albert got out of the car and approached Small, the dying father of her youngest child.
"I just seen blood all over. It was just leaking out," Albert told the court as she cried. "And [Small] was just grunting, making a noise."
Judge Alexander Jeong called a 15-minute recess to let Albert compose herself. After the court reconvened, Gradinger asked Albert how much time passed from the moment Small approached Isaacs' window to the moment Isaacs shot the victim.
"Seconds," Albert said.
During cross examination, one of Isaacs' defense attorneys, Stephen Worth, emphasized Small's 6-foot-3-inch, 240-pound frame and that Small was legally drunk after having three drinks at a BBQ that evening. Worth also seized on Small's apparent anger at being cut off in traffic when he approached Isaacs' window.
"Delrawn is a big man. You've told us that, correct?" Worth asked Albert.
"A tall guy, yes," she replied.
"And a heavy guy," Worth added.
Jeong asked the jury to briefly leave the room while Isaacs' attorneys prepared to play an audio tape of an interview Albert gave to detectives shortly after the shooting, in which she told them Small "gets angry so fast."
"When somebody says, 'What the fuck?,' isn't that an expression of anger?" Worth asked.
"Not necessarily," Albert replied.
"You begged [Small] not to get out of the car, didn't you?" Worth continued. "You knew there was going to be violence, correct?"
"No, I did not beg him," Albert said, seemingly becoming flustered at Worth's rapid-fire questioning. "He's trying to put words in my mouth," she later told the judge.
Members of Small's family and supporters who sat in the courtroom gallery left the room multiple times during the hearing.
"He was clearly badgering her," Small's sister, Victoria Davis, said in an interview during a court recess for lunch, referring to the defense attorney's questioning of Albert.
Several of Small's supporters wept when a witness' 911 call was played back for the jury early Wednesday afternoon.
"[Small] was bloody, gasping, breathing," witness Brian Williams, a corrections officer who traveled to the scene after hearing gunshots, told the court.
"Did [Isaacs] ever try to administer CPR?" Gradinger asked.
"No," Williams said.