5 tricks to get paid money for selling your data — since it's getting sold anyway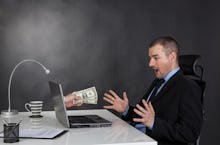 Maybe you have heard? Your personal data is being shared — constantly — with retailers and service providers that want to profit from your spending. Companies can easily track your social media posts, web search history and even your medical data or physical location, which can feel downright creepy.
How do they do it? Some use tracking cookies that keep a log of every site you visit on your smartphone or laptop. Each time you check out Facebook, the company uses algorithms to track what you like and click, to serve up targeted ads. Google has seemingly figured out how to learn what you bought offline after seeing an ad online. Even creepier, you don't even need to be logged into an identifying account to be tracked by companies — which can figure it out using predictive models, as Consumerist reported.
Now, sometimes this kind of information-gathering (and selling) extends beyond nuisance ads: Back in 2007, data broker InfoUSA reportedly got a list of elderly consumers who had entered online sweepstakes — and sold the list to predatory scam artists who bilked 19,000 unsuspecting people out of $100 million, Newsweek reported. And you don't need to be elderly to be at risk of a breach: Following the recent Equifax leak, you might already be feeling a little violated when it comes to your data. Data exposed in the breach included Social Security numbers, birthdays, addresses and credit card numbers.
Is there anything you can do to fight back? When it comes to your most critical private information, like SSNs, you should follow some clear steps to safeguard yourself from identity thieves and credit card scammers.
But as for less crucial information — like your taste in food or clothes — there is likely less you can do to stay hidden from data-gatherers. The good news? Rather than just rolling over and letting companies just pluck your valuable data, you can make them work for it: and earn some cold, hard cash.
Believe it or not, there are plenty of ways you can be rewarded with money, products or even experiences — simply by signing up to participate in data-sharing programs. Here are a few you can try:
1. Sell your shopping habits
Shoppers can earn reward points, which they can use for gift cards or appliances, in exchange for sharing shopping data with the market research firm National Consumer Panel.
To get started, you need to use a scanner provided by NCP (which is a joint project by research firms Nielsen and IRi) that you will use to scan all the barcodes on your groceries. In exchange, you'll earn gift points that you can redeem for merchandise, gift cards or charity donations. You can also enter sweepstakes with a grand prize of $20,000.
Beyond providing your shopping data, you'll need to set aside about an hour a week to talk with marketers to share your opinion on products and answer questions.
2. Get paid to test games and websites
How does making an easy 10-spot to test-drive a website, game or app sound? You can earn a quick $10 through UserTesting if you spend 20 minutes testing out a website and providing video while your screen and voice are recorded. Signing up is free and your input is delivered to 34,000-plus companies.
"Let me state this right you front. You are not going to get rich from this program," one UserTesting reviewer, who said they make $50 a month off it, wrote in 2015. "But I like this program to earn a few extra dollars each month." Even better, the deposit arrives in your Paypal account seven days after you complete each test.
Other sites that pay you for testing include uTest, Testbirds and PlayTestCloud.
3. Share your mobile habits
Earn gift cards, cash and products by simply using your mobile device. With MobileXpression, for example, just register your mobile device and agree to have your messages, browsing activity, camera and video streaming tracked.
It's worth noting that "tracking" is not the same as recording. Phone calls are not monitored, meaning the company does not record phone calls, listen or record private conversations or voicemail messages. Members get a $5 Amazon gift card after the first week, Frugal for Less reported, followed by up to about $20 a year.
You can also enter weekly sweepstakes to win larger prizes like a Samsung 32-inch LED HDTV or a Fitbit Charge HR Wireless Activity Wristband.
4. Earn cash for taking surveys
Your opinion is another form of "personal data" and you can get paid by taking online surveys through a company like Swagbucks. Most surveys take from 10 to 20 minutes to complete and you can earn an average of 75 Swagbucks per survey. You do have to qualify to take the survey, which is often based on demographics, but even if you don't qualify you still earn 1 Swagbuck.
Survey information is shared with companies and organizations and in exchange for your thoughts, you can earn cash or gift cards. Each survey offers a different payout, but you can make as much as $50 for a single survey. You can also make money through Swagbucks by sharing shopping data, watching videos and even playing games.
Other survey sites include MyPoints, Survey Junkie and Point Club.
5. Get passive income through a third-party provider
You could also sell your personal data with very little effort for cash if you go through Datacoup, which is aimed specifically at helping you monetize it. On Datacoup, users create a profile linking their various social media, financial and even online health accounts (like HealthKit) and get paid a few bucks a month through the company, as other firms purchase your data.
Other ways to get paid for very little work
Who wouldn't want to be first in line to purchase impossible-to-get concert tickets or earn discounts and rewards on popular products? To get these perks, Verizon customers need to sign up for VerizonUp, a free rewards program that allows customers to gather reward points when they pay their Verizon bill or purchase Verizon products.
Sounds like a no-brainer, but like with most programs that sound too easy, there's a catch. By signing up, Verizon will be able to target market to members through the use of their personal data, USA Today reported. That means Verizon can track your web browser history, app usage and activity on your mobile device and then turn around to find better ways to market products and services back to you.
Another option? Every time you use your credit card, you're inviting the issuer to track when you shop, where you shop and how much you spend. Since they're already logging all this information anyway, you might as well get something in exchange for it by using a rewards credit card.
Of course you'll want to steer clear of specific cards with high annual fees or know how to get them waived. Focus on finding out which rewards are most useful to you. If you just want cash back, Citi Double Cash offers one of the best deals around, by giving you 2% cash back on everything you buy.
Jetsetters might do better with a travel rewards card like Bank of America Premium Rewards, which gives you a $100 a year travel credit, free Global Entry credit and no foreign transaction fees. Or maybe you'd rather get $200 in free Uber rides with the American Express Platinum card.
For more on the best rewards, see Mic's guide to the best rewards cards, plus how much you'll need to spend on each card to break even.
Want even more tips? Check out our guide to saving or making extra cash in 30 minutes, 10 minutes and three minutes.
Sign up for the Payoff — your weekly crash course on how to live your best financial life.