Career Advice: Here's the best day and time to apply to a job if you want to get an interview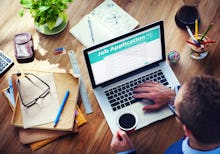 The most painful aspect of job hunting is sending out dozens of applications for positions — only to hear crickets in response. What are you doing wrong? While, of course, your resume or cover letter might need some polishing (surprising tips on that here), even otherwise shoe-in candidates might be hitting a wall for a simple reason: the time of day they're applying.
That's right. Those who apply early in the day are more likely to get a response and interview. Why? Like most professionals, recruiters get busier as the day goes on; inboxes become more cluttered, which may put late applicants at a disadvantage: That's what career site TalentWorks found in a recent analysis of more than 1,600 job applications.
To determine exactly what time might be the best to apply for a job, the site examined applications sent throughout the day, then followed up to find out whether job hunters got an interview. They found that the chance of getting an interview is five times higher for those submitting applications before 10 a.m. — compared to applying for the same job after hours. "Whatever you do, don't apply after 4 p.m.," the site noted. While correlation is not causation, the likelihood of an interview drops below 5% for most evening applicants.
"The early bird catches the worm," said Marc Cenedella, CEO and founder of online job search engine Ladders, in an email. "In today's crowded social media world, even recruiters and HR people get overwhelmed with all the emails, tweets, 'grams and snaps coming their way. Getting in front of them before their heads, inboxes, and messages are full of other stuff, gives you the best chance to stand out, be first in line and top of mind."
As for the best days of the week to apply? Other research suggests it's not just important to apply early in the day, either: It also helps to submit your resume early in the week. One 2015 study by career site SmartRecruiters found that Tuesday is the most popular day for new job postings to pop up, and for most people to apply — and get hired.
A different study found the sweet spot is even earlier in the week — Monday — according to an analysis by former recruitment company Bright (acquired by LinkedIn in 2014), as Quartz reported: "In the U.S. at least, 30% of Monday job applicants make it to the next stage in the hiring process... the least successful application day is Saturday, when only 14% of applicants advance."
While submitting an application or resume before 10 a.m. appears to help, you can always hit "submit" even earlier: as early as 6 a.m. for a boost. Just make sure you do so during the morning of the employer's time zone. (So, if you live in California and are applying for a New York City gig, wake up before the roosters crow and submit between 4 a.m. and 7 a.m.)
Mornings too hectic to think about sending in your resume? You also get a bump just after noon, when your odds of snagging an interview rise to about 11%, before sinking to under 3% around 7:30 p.m., according to TalentWorks. Night owls are likely best off queuing up the resume and cover letter at night — then hitting send the next morning before work.
Smart secrets to getting that job interview
Beyond day or time of day, applying for a job during the first two to four days of it being posted is going to give you the best chance of getting an interview. Unfortunately, if the job was posted 10 days ago, you'll have only about a 1.5% chance of an interview on average, according to the data.
In other words, applying for the freshest jobs seems to really increase your chances: "Candidates actively searching for job opportunities and applying for jobs when they first open will have a greater chance of getting noticed and getting in on the first wave of interviews," SmartRecruiters' recruiting innovation officer Jason Buss told Fast Company.
To up your chances any day of the week, make sure your cover letter and resume are both easy to read — and eye-catching. Consider creating a skills-based resume instead of going the basic model, if your work experience looks thin on paper. Choose up to three specific skills that fit with the job description, and flesh out from there. Your resume design should really pop: Here are three templates that should get you to the top of pile.
Don't neglect your cover letter, which can even take a front seat to the resume. A good cover letter addresses four basic questions: why you are interested in the job, your qualifications, why the company will be a good fit for you and what value could you bring to the firm. Before you write, make sure you've carefully researched the company and can convey you have a good understanding of what they're about and why you're a good match.
Finally, stick to professional verbiage when building a resume and cover letter. It's easy to fall into the trap of referring to yourself as a "well-seasoned team player" or a "rock star" at work. Although some terms sound catchy or fun, they don't really tell your potential employer who you really are or what you can do. Stick to real words and descriptive meanings to pique interest.
Sign up for the Payoff — your weekly crash course on how to live your best financial life.