Mic Wakeup: NAACP gives warning, PR wants Whitefish out and why the DNC funding dossier isn't big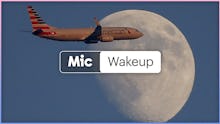 It's Thursday, Oct. 26. Here are three things you need to know.
The NAACP issued a rare travel warning against American Airlines
On Tuesday, the NAACP issued a travel warning for all travelers, but specifically for African-American travelers, to avoid flying with American Airlines. The organization noted a number of alarming incidents that appear to be racially motivated as the cause for the release of the travel warning.
"The series of recent incidents involve troublesome conduct by American Airlines and they suggest a corporate culture of racial insensitivity and possible racial bias," the NAACP said in a statement. It added that its warning would remain in effect indefinitely.
For its part American Airlines spokesperson Shannon Gilson said in a statement, "We are committed to having a meaningful dialogue about our airline and are ready to both listen and engage." Gilson confirmed that the airline has invited leaders of the NAACP to meet at American's headquarters in Fort Worth, Texas.
So, should I fly with AA? If you already have your flight booked, go ahead and fly with the company. Just understand your rights as a traveler before you get on this airline, or any airline, in the future.
The mayor of San Juan, Puerto Rico thinks the Whitefish contract should be voided
San Juan Mayor Carmen Yulín Cruz is calling for a $300 million contract with Whitefish Energy to be voided immediately. Why? Because according to Cruz, and many others, the deal is "alarming."
As Yahoo News reported, the small energy company based in Montana only had two employees when Hurricane Maria struck the U.S. territory in September. However, that company was somehow awarded the massive contract to help restore power to the island. The contract, Yahoo noted, was awarded without the standard competitive bidding process.
"The contract should be voided right away, and a proper process which is clear, transparent, legal, moral and ethical should take place," Cruz told Yahoo. "It seems like what the Puerto Rican people are going to be paying for, or the American people are going to be paying for, is an intermediary that doesn't know what is at stake here and that really has to subcontract everything."
To further add fuel to the fire, the Washington Post reported that Interior Secretary Ryan Zinke, who hails from Whitefish, Montana, has somewhat of a tangential relationship with the company — his son "worked a summer job" for the company at one point. Zinke's reps, however, deny that has has "taken any meetings or action on behalf of this company."
Is there a way for me to help the people of Puerto Rico? Yes, even as they sort out all of these issues, the people of Puerto Rico still desperately need your help and from donating money, goods or your time there are plenty of ways to do just that.
Clinton's campaign funding the Trump dossier is news, but it's not as big as you think
On Tuesday evening, news broke that both the Democratic National Committee and Hillary Clinton's campaign at one point were footing the bill for the infamous Donald Trump dossier that contained explosive claims about Trump's alleged relationship with the Russians.
Immediately after the Washington Post published a piece regarding just where the dossier's funding came from, those on the right, including the president himself, took to Twitter to exclaim that this is the true "Russian scandal."
But here's the thing: The fact that the Clinton campaign paid for opposition research is just par for the course in a presidential race, or any political race for that matter.
"You want to know everything you can about your opponent, everything they have ever said, any way they have ever made money, any way they have ever spent money, and so that you can use it to your advantage in the campaign and so voters know their entire record," Tim Miller, co-founder of Republican opposition research group America Rising, told PBSNewshour.
And while some of the findings in the dossier remain unverified (which its author Christoper Steele has said himself), many of the findings have been independently checked and confirmed by third parties, including the FBI.
So it may not have been great for Clinton's lawyers to lie about their involvement in funding the dossier, but as one Clinton staffer said, had he known about the information in the report, he wouldn't have hesitated to share it, simply because it was great intel on an opponent.
"If I had gotten handed [the dossier] last fall, I would have had no problem passing it along and urging reporters to look into it," former Clinton campaign spokesman Brian Fallon told the Post. "Opposition research happens on every campaign, and here you had probably the most shadowy guy ever running for president, and the FBI certainly has seen fit to look into it."
I can't tell, is everything a truth or a lie? Again, not everything in the dossier has been independently verified, but Trump, his family and his administration's relationships with the Russians are no secret.