The 9 best things to buy right now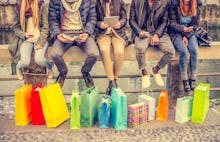 Grab your coupons and get ready: The holiday shopping season is right around the corner, and there are many ways to save money if you've got a long gift-giving list. While there are deals every season, sweet discounts tend to appear on particular products during particular months — meaning if you plan ahead, you can avoid paying full price year-round.
Some purchases go on sale starting in Nov. 1, as DealNews reports, even if the holiday shopping season more "officially" kicks off on Black Friday — which falls on Nov. 24 this year — and many stores hold Veterans Day sales as well.
The entire month is actually a great time to get deals: "This includes a few days before and after Thanksgiving, so it becomes more of a Thanksgiving savings week," Lauren Greutman, savings expert for the shopping app Flipp, said in a phone interview. That said, while a recent trend is to start shopping before your turkey comes out of the oven, it's important to note that a growing number of retailers plan to close on Thanksgiving Day, including Costco, Ikea and Petco.
Shoppers are expected to spend at least $970 per person on holiday shopping this year — compared to less than $940 in 2016, according to the National Retail Federation. And demand could mean crowded malls if historical trends continue: NRF projected more than 150 million shoppers last Thanksgiving weekend. Doing shopping online might be far less painful: Beyond sale prices, you might pay attention to exclusive, app-only promotional deals, along with coupon sites like Coupons.com, Krazy Coupon Lady or RetailMeNot.
Want to land only the lowest prices around? Here's a list of what to buy and when to buy it over the holidays. As always, before you shop, check prices to make sure retailers are offering the lowest price possible — and stick to those items you need or absolutely love.
1. 4K TVs with HDR and OLED screens
November is the time to buy that 4K TV you've been eyeballing for months, according to Consumer Reports. 4K models have four times the number of pixels as regular HDTVs for a crisper, more detailed display. Look for sets with high dynamic range technology, which boosts the screen's brightness, contrast and color.
Get ready for uber-low prices starting at $500 versus a typical price of $1,000 for a similar set. You'll have to wait a bit for those deals, but right now you can save nearly $400 on a Samsung 55-inch 4K Ultra HD Smart QLED TV through Amazon, for a final price of $1599.99.
And if you're in the market for a fancy 4K OLED set, which currently displays the richest and most accurate colors, you may be in luck: Normally starting at around $3,000, they're among the items Consumer Reports expects to be decently discounted.
2. Appliances, big and small
While it's still a little early for Black Friday sales to be announced, based on last year's deals and some early discounts available now, expect to save up to 50% or more on appliances. Right now you can get half off Kenmore dishwashers at Sears, similar deals on refrigerators at Home Depot and refurbished Dyson vacuum cleaners for more than 30% off. What does that mean in actual dollars? You'll pay as little as $130 for a state-of-the-art handheld V6 Trigger, instead of the full price of $160, for example.
Don't forget to keep an eye out on small appliances like slow cookers, coffee makers, food processors, juicers, mixers and toasters, too. You'll get the best deals if you avoid paying extra for any whiz-bang features you don't really need (like that milk-frother, perhaps?).
3. iPhones, Androids and Apple watches
With the new iPhone X already available for preorder, get ready for deals on the iPhone 8, which TechSpot says you may be able to get $250 off on with a gift card. The price on the Samsung Galaxy S8 could also fall to $350 or less — more than 50% off the current list price of $725.
And, of course, you'll always save buy buying older generation phones during this season and shopping online, instead of heading to the store.
In the market for an Apple Watch? Look for older models, like the Apple Watch Series 1 sport watch for $190, plus free shipping through JemJem. If you must buy new, you can save up to $70 off of the Nike Apple Watch+ at Best Buy.
4. Winter clothes
Gear up for strong Cyber Monday sales on clothing, when stores like Levi's, Crocs, Nordstrom Rack and online retailer 6pm typically offer their best deals, DealNews reported.
For savings right now, you can get $55 off a North Face Women's Crescent Sunshine hoodie at Cabela's or score 72% off on a Philosophy apparel sweatshirt dress at Nordstrom Rack. Old Navy is already posting Black Friday deals of up to 42% off on select styles.
More sales can be found at the ASOS outlet, where you can take up to 70% off certain items before Black Friday. For a real bargain, pay $1 a pair for fleece gloves from Dollar Tree.
5. Video games and consoles
Xbox bundles took a dive in price last year, which could repeat this year following the release of the Xbox One X. In fact, DealNews anticipates gaming systems like Xbox One S 500GB bundles could go for as low as $159, and 1TB bundles to $179.
Also, the basic PlayStation VR bundles could end up being only $379. Watch for GameStop to offer discounts, as last year gamers got $50 off both the Gears of War Xbox One S Blue 500GB Bundle and the Uncharted 4 500GB PlayStation 4 Bundle.
Of course, you'll need extra games to go with your new gaming laptop or system. Score 20% off when you buy two plus select used games at Amazon Warehouse, or order Super Mario Odyssey for the Nintendo Switch for $47.99 (price is normally $59.88) at Amazon Prime when you reload a gift card balance with $100.
6. Toys for the kids
Tempting as it is to just buy everything on Black Friday, some of the deeper toy discounts won't arrive until December, especially when it comes to purchasing dolls, action figures and playsets.
Although you may find better deals closer to Christmas, some of the hot toys sell out early, so plan accordingly. Some hot toys this year include Hatchimals Surprise Twin-Puppadee, the Soggy Doggy Game, Mayka Toy Block Tape from Zuru and more, according to U.S. News & World Report.
7. Laptops at a bargain
Basic laptops are priced to sell in November. Get a Dell Inspiron AMD Quad 16-inch laptop with 4GB GPU for $650. And for a real bargain, the Hisense Chromebook is just $129 through Walmart.
Need a Mac? Save about $200 on a refurbished Apple MacBook Air 13.3-inch Laptop through iTechDeals. And right now, you can get $250 off select MacBook Airs from Best Buy, for a final price as low as $750.
8. Tools to get the job done
Tools can be a great gift for just about anyone, but especially those who just moved into a new home or who you know is handy. December is a good time to save on tools and hardware, and Deal News says last year produced some decent savings on power drills, wrenches and general tool sets.
Check with retailers like Home Depot, Lowe's and Amazon for discounts on tools, hardware and more.
9. Gift cards galore
The cool thing about buying a gift card on sale is that it's a little like free money — since the holder of the card has flexibility on what they want to buy, after paying only $40, say, for a card worth $50. Now is a good moment for these kinds of deals.
Beginning in November, you might start to hear about promotions on gift cards from restaurants and — increasingly — stores, as the Balance reports. You're likely to find even more places that charge less than face value in December. On average, gift cards from Best Buy are about 3% lower than face value, and you can get 20% off at Ann Taylor in December, Consumer Reports says.
Last year, Target offered 10% off its gift cards, too, so check for discounts at the retailer or discount sites like DealNews before you make a purchase. Even though some retailers are dropping gift card prices, don't forget to check out sites like Raise or CardCash for a possible deeper discount.
Sign up for the Payoff — your weekly crash course on how to live your best financial life.