Here's a chart showing the age gaps between romantic partners in Woody Allen's movies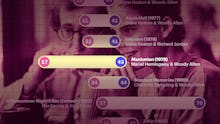 As Woody Allen's film Wonder Wheel gears up for its limited U.S. release in December, the director's next movie — an in-production project currently titled A Rainy Day in New York — is already a source of controversy, thanks to its reported use of one of Allen's signature tropes. And no, we're not talking about a bunch of nebbish, pseudo-intellectual New Yorkers fretting for the sake of it.
According to Page Six, the forthcoming film finds a character played by 44-year-old Jude Law being accused of having sex with a 15-year-old "concubine," played by 19-year-old Elle Fanning. (In the film, Fanning's character claims she's 21 years old.)
If the report is correct, the relationship between Law's character and Fanning's character would be the latest in a long line of relationships between middle-aged men and young women in Allen's films. Perhaps the most famous — or infamous — is the pairing at the center of 1979's Manhattan, in which Isaac (Allen), a successful 42-year-old television writer, dates Tracy (Mariel Hemingway), a 17-year-old high school student. (That on-screen relationship is believed to have been based on a real-life relationship Allen had with a young Stacey Nelkin around the time that he made 1977's Annie Hall.)
And if there's a considerable age difference among the characters, then it stands to reason that there's likely a considerable age difference among the performers themselves. Case in point: When Manhattan was released in the U.S., Allen was 43 and Hemingway was 17.
But even when the female characters in Allen's films are of age, they're often played by actresses who are considerably younger than the men with whom they're paired on-screen. Take, for example, Hugh Jackman and Scarlett Johansson, whose characters have a romance in 2006's Scoop: He was 37 at the time of that film's U.S. release, and she was 21. Or look at 2009's Whatever Works: When that landed in limited U.S. theaters, male lead Larry David was 61, and his on-screen partner, Evan Rachel Wood, was 21. When 2014's Magic in the Moonlight began its limited-theater run in the States, romantic leads Colin Firth and Emma Stone were 53 and 25, respectively.
It's clear that this theme of older men getting involved with younger women is a preoccupation for the 81-year-old director.
When a dynamic like this is as prevalent in someone's work as it is in Allen's, it can be startling, to say the least. Especially when you take into context Allen's personal life: There's the relationship with Nelkin, but there's also the fact that Allen's current wife, Soon-Yi Previn, is roughly 35 years younger than him. Previn is also the adopted daughter of Mia Farrow, with whom Allen was romantically involved for years, including when he started having an affair with Previn sometime around the late '80s or early '90s. Then there are the allegations that Allen sexually abused his adopted daughter, Dylan Farrow, when she was 7 years old. Allen denies that any such abuse occurred.
In the wake of the scandal surrounding disgraced Hollywood producer Harvey Weinstein and allegations of decades of sexual misconduct, figures like Allen, who have been the subject of troubling accusations in the past, find themselves under a microscope. The report about a sexual relationship between a middle-aged character and a teenaged character in his next film is only adding to the conversation about Allen's own relationships with women, both on-screen and off.
Do Allen's movies tell us anything about his real-life behavior? Maybe, maybe not. Making connections between an artist's work and personal life always means there's some degree of presumption, but it's clear that this theme of older men getting involved with younger women is a preoccupation for the 81-year-old director. At the very least, charting the age differences between romantic partners in his films could help create a fuller picture of how Allen depicts love.
So that's what we did: We made a grid highlighting the age gaps between many actors and actresses who've played romantic partners in Allen's films. Since he has a vast filmography spanning more than 50 years, the sample size is large. And since many of his films involve several fictional couples — who are often dealing with love triangles and extramarital affairs — we decided to highlight one pairing per film. We focused on his feature-length films, but not every picture directed or written by Allen is represented here; we included the ones with straightforward, coherent narratives (so, for example, that eliminates 1972's Everything You Always Wanted to Know About Sex* (*But Were Afraid to Ask)) and those wherein a romantic relationship was at or near the center of the story.
We also tried to avoid redundancies when possible. Allen tends to work with some of the same actors and actresses several times over, so when we could focus on a pairing that didn't feature, say, Diane Keaton or Mia Farrow, since they're represented elsewhere, that's what we did. (That's why for 1986's Hannah and Her Sisters we included Michael Caine and Barbara Hershey, who have an on-screen affair, and not Caine and Farrow, who are married in that film.)
To be clear: For the sake of consistency, we focused on the ages that the actors and actresses were when these movies had their limited release in the U.S., rather than the ages of the characters, since it's not always apparent what the characters' exact ages are. (A Rainy Day in New York doesn't have a specific release date yet, so we noted Jude Law's and Elle Fanning's ages as of publication time.)
It's no secret that this particular trope appears in some of Allen's films — though there are instances where it's reversed, and the actress is older than the actor opposite her. But this graph illustrates just how frequently young women are paired with older men.