Mic Wakeup: House passes budget, Sessions goes after weed and a few weird Halloween costume ideas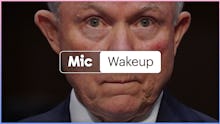 It's Friday, Oct. 27. Here are three stories you need to read.
House Republicans narrowly pass new budget, kicking off potential tax reform
On Thursday morning House Republicans passed a new budget by just a few votes, but it was enough to get the bill to President Donald Trump's desk for a signature.
The passage of this budget means Republicans can now draft tax reform legislation that is not subject to a filibuster in the Senate.
The budget passed despite 20 Republicans voting "no." Many of those detractors came from New York and New Jersey, both of which would likely see huge tax increases for its residents thanks to the Republican effort to repeal the state and local tax deduction. That deduction helps states like California, New York and New Jersey mitigate their own high state taxes for residents.
What would this mean for me? If you live in New York or New Jersey, you could potentially see your taxes increase.
Jeff Sessions says the DOJ will soon crack down on marijuana growers everywhere
Attorney General Jeff Sessions has always been clear about his stance on marijuana legalization, and now it appears he's planning to take it one step further by actually cracking down on marijuana growers around the country, even in states that have legalized.
While making an appearance on conservative radio host Hugh Hewitt's show, Hewitt asked Sessions if he had plans to prosecute growers as criminal enterprises because marijuana is still federally illegal.
"A lot of states are just simply breaking the law and a lot of money is being made and banked," Hewitt said to Sessions. "One [Racketeer Influenced and Corrupt Organizations] prosecution of one producer and the banks that service them would shut this all down. Is such a prosecution going to happen?"
Sessions replied that he doesn't believe "one [RICO] prosecution would be quite as effective as that," but added that he personally does not believe states have the right to legalize the drug while ignoring the current federal laws.
He noted that, while he cannot comment on any ongoing investigations, he hears the criticism loud and clear. "I can't comment on the existence of an investigation at this time, you know that, but I hear you," Sessions said with a laugh on the show. "You're making a suggestion, I hear you."
What about what the people want? According to a Gallup Poll published just this week, 64% of Americans support legalizing the drug. More than half of Republicans also support marijuana legalization.
Not ready for Halloween? Let this super weird artificial intelligence machine help
With the rather warm temperatures stretching from coast to coast, it's sort of hard to believe that Halloween is almost upon us. But here we are, just days away with nothing to wear.
If you're finding yourself in the same predicament and have no costume handy, this artificial intelligence neural network is here to help.
Created by research scientist Janelle Shane, the neural network first kicked off by crowd-sourcing more than 4,500 ideas for Halloween costumes from her readers. Next, the AI mixed them up for the greatest remix of "Monster Mash" ever.
"The most popular submitted costumes are the classics — 42 witches, 32 ghosts, 30 pirates, 22 Batmans, 21 cats (30 including sexy cats), 19 vampires and 17 each of pumpkins and sexy nurses," Shane wrote in a blog post.
Once the network has the ideas loaded, it continuously mixes them up for weirder and weirder results. So this year why not try being a "sexy pot," or a "shower witch" or even a "statue of pizza" this year like the network suggests.
What if I don't want to dress up? Hey, congratulations you're an adult who can do anything you want. So don't dress up if you don't want to. Society can't tell you how to have fun on Oct. 31.