The strange reason deaf children aren't taught sign language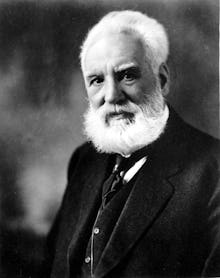 Imagine living without a first language. That's the case for many deaf children in the United States who suffer from "language deprivation," a condition that could affect them for life.
It's when kids miss the critical period — which begins to taper off around age 5 — to develop the mental scaffolding that helps the brain understand language. If deaf children are not taught how to sign during this time, they may never learn any language to fluency.
There's no citable research on the number of deaf individuals at risk for language deprivation, but Naomi Caselli, an assistant professor of deaf studies at Boston University, is "willing to say it's a majority."
"There's a lot of trauma that goes along with it," she said. "My dad, for example, suffered from language deprivation. His father died when he was a teenager. He never really got to have a real conversation with him. There's a real, ongoing emotional impact."
U.S. law mandates that all children born in hospitals are screened for hearing loss, but there's no law requiring follow-up care. So parents of deaf children, an estimated 90 to 96% of whom are hearing, are left to navigate the confusion alone.
What they encounter is often a slew of bad advice or even outright prejudice against sign language — an antiquated way of thinking that stems back to the late 1880s, experts say.
Parents of deaf children are told to choose between speaking and sign language
"For most of these families, their children's birth is the first time they've met anybody deaf. So they go to the early intervention system, which focuses on what they call 'communication' — meaning, being able to speak," Wyatte Hall, a postdoctoral fellow at the University of Rochester Medical Center's Clinical and Translational Science Institute, said through an interpreter. "But 'communication' is usually secondary to having language, and language is what is necessary for true cognitive development."
Basically, parents are often told that they have to choose between speaking or sign language for their children. Since most people in the U.S. don't sign, many opt for focusing solely on spoken language, enrolling their children into speech therapy and audiological training. About 80% of children born deaf in the developed world will get a cochlear implant later on, but the problem is that their brains may not be equipped to understand the complex notion of language by the time that happens.
"Language deprivation is like child abuse. The children end up being neglected and impaired."
"Cochlear implants create an electronic symbol, not the ability to hear," Hall said. "So they miss that first year of life and exposure to language anyway, and [when they get a cochlear implant], kids don't have any language foundation to help them decode these electronic signals."
How can a child learn the ABCs in kindergarten if, by age 5, they've never really been conceptually introduced to the idea of words and their meaning? Language deprivation has reverberating effects on relationships, education, independence — plus critical skills like memory organization, literacy and mathematics. As one 2012 paper put it, "the brain of a newborn is designed for early acquisition of language."
"I've worked with many students who are language-deprived. Often, they show up to school with only two or three words in their vocabulary," April Bottoms, a graduate student at Boston University's Education of the Deaf program, said through an interpreter. "Can they learn how to write, read and get the foundations of education? No. I have to connect with them through shared gazing."
There's currently no gold-standard assessment that can evaluate a deaf person's ASL skills, Bottoms added, which makes it hard to refer parents to resources or to understand the sheer scale of language deprivation in the U.S.
Nevertheless, about 25% or less of deaf children use sign language at home, according to Peter Hauser, a neuropsychologist and director of the National Technical Institute for the Deaf Center on Cognition and Language.
"We need the public to realize that learning a sign language is not a risk. It has benefits. Not learning a sign language is a risk," he wrote in an email. "It is a significant public health issue because language deprivation is like child abuse. The children end up being neglected and impaired."
When history took a wrong turn
In the fall of 1880, representatives from European and American schools for the deaf gathered in Milan. There, a 33-year-old Alexander Graham Bell — yes, the guy who is credited with inventing the telephone — advocated for abandoning sign language in schools. Bell's wife and mother were both deaf, and he believed that deaf people needed to learn how to speak.
"That Milan conference is where Alexander Graham Bell really asserted himself into deaf-education systems," Hall said. "Prior to that time, schools for the deaf in the U.S. were primarily deaf people teaching deaf children using American Sign Language. Kids went as young as age 3."
By the end of the conference, the hot new thing was to ditch sign language in classrooms and bring oral-based education back to delegates' home countries. Not a single deaf person was involved in making the new resolutions.
Deaf teachers were fired from their jobs and kids were punished for using sign language in schools, Hall said, adding that the "well-funded" Alexander Graham Bell Association still discourages ASL today.
Alexander Graham Bell — the guy credited with inventing the telephone — advocated for abandoning sign language in schools.
"The AG Bell organization as well as cochlear implant companies are very invested in this," he said. "There's a lot of financial ties to this system of trying to turn deaf people into hearing people. It's a human bias instead of just seeing it naturally, as a different human experience."
Every year in the U.S., about 24,000 children are born with some degree of hearing loss. So the issue of language deprivation — both rampant and incredibly damaging — is likely affecting thousands.
The logical solution appears to be teaching children sign language, even in tandem with more popular, speech-based methods. But somehow, teaching ASL to every deaf child is still at the center of a century-old debate.
"Sides are solidly entrenched. Bias against signed languages and prejudice against exposing children to them is worldwide, and in denial of research findings," Tom Humphries, a professor emeritus at the University of California, San Diego, in both education studies and communication, said in an email.
"It reminds me of climate change — while deaf children suffer language deprivation and everyone knows it, those who would address it are not currently in power," he said. "So it just goes on, to the ruin of yet another generation of deaf children."