Texans star wide receiver skips practice after team owner characterizes NFL players as "inmates"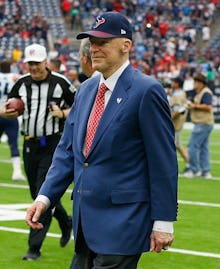 Houston Texans wide receiver DeAndre Hopkins appears to have taken the reported comments made by team owner Bob McNair personally and he's not the only one.
The star wideout reportedly took a "personal day" on Friday, skipping practice after reports of McNair characterizing NFL players as "inmates" in an NFL prison where team owners, apparently, are the wardens made headlines.
McNair was one of the 11 NFL team owners who participated in an Oct. 17 meeting with 12 players and commissioner Roger Goodell to discuss ways to address the league's national anthem protests controversy.
"We can't have the inmates running the prison," McNair said at the meeting, stunning those in attendance, according to ESPN the Magazine reporter Seth Wickersham, who detailed the back and forth exchange in the magazine's latest issue.
The Texans owner has apologized at least twice for his remarks; first to NFL executive and former player Troy Vincent immediately following their Oct. 17 meeting; and again Friday morning when McNair issued a formal apology after the ESPN story broke.
"I regret that I used that expression," McNair said in his written statement. "I never meant to offend anyone and I was not referring to our players."
"I used a figure of speech that was never intended to be taken literally," McNair continued. "I would never characterize our players or our league that way and I apologize to anyone who was offended by it."
It was too little, too late for Hopkins, who skipped practice, and a few other current players who took to Twitter to let their feelings be known.
New York Giant Damon Harrison expressed disbelief at McNair's comments.
"Nahhh Bob McNair didn't say that... nah y'all tripping," the defensive tackle tweeted Friday morning. "Did that wake some of y'all up now?"
Seattle Seahawks linebacker Bobby Wagner seemed less surprised than his peers.
"People sayin' how they really feel," he tweeted.
Wagner's more outspoken teammate, Richard Sherman, also seemed to regard McNair's "candid" comments as a refreshing view into how NFL owners actual feel about the players they employ.
The Pro Bowl Seahawks cornerback has criticized the NFL for keeping Colin Kaepernick unemployed after the former 49ers quarterback started the #TakeAKnee movement last season.
"I can appreciate people being candid," Sherman tweeted. "Don't apologize! You meant what you said. Showing true colors allows [people] to see you for who you are."
Whether McNair's statement was a verbal flub or a Freudian slip is open to interpretation, but it's the NFL's latest misstep in an ongoing controversy where race is a central issue.
All but one of the NFL owners are white even though nearly 70% of the league's players are black.
Many of those black players have been protesting during the anthem to express their disdain for high profile police killings of black Americans and other issues that disproportionately affect the black population.
McNair, along with other team owners, collectively donated millions of dollars to President Donald Trump's inauguration ceremony. Trump repaid those owners by putting their business in jeopardy, publicly calling on them to fire the "son of a bitch" players who refuse to stand for the anthem.
The anthem saga has thrust the NFL into the center of the nation's pro-Trump, anti-Trump culture war, with Americans on both sides of the political spectrum calling for NFL boycotts in response to the league's handling of the protests.
Progressives have vowed to stop watching the NFL until the original protester, Colin Kaepernick, is signed to a team. Conservatives, rallied by Trump, have declared they won't watch until the league stops other players from protesting the anthem in Kaepernick's absence.
ESPN broadcaster Jemele Hill, another Trump target, hasn't shied away from weighing in on the NFL's anthem protest controversy, fresh off a two-week suspension for violating the network's social media policy.
"It's pretty clear the league just doesn't get it," Hill tweeted on Friday. "A quote that will make you cringe from Texans [owner] Bob McNair." she added.
Kaepernick himself has remained mostly silent this season, but he's scheduled to attend meetings with the owners and players next week.