Report: Charges filed in Mueller investigation into Russian collusion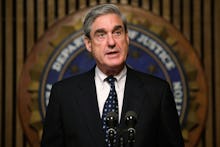 On Friday, a federal grand jury approved the first charges as part of the investigation led by special counsel Robert Mueller, according to an exclusive report by CNN.
And while CNN confirmed that charges had been filed by multiple sources close to the investigation, it could not reveal exactly what the charges are as they remained sealed under court order from a federal judge. CNN did note, however, that sources confirmed anyone charged will likely be taken into custody as early as Monday.
A spokesman for the special counsel's office declined to comment on the matter to CNN.
As CNN further explained, Mueller was authorized to investigate "any matters that arose or may arise directly from the investigation" by Deputy Attorney General Rod Rosenstein, who is overseeing the investigation into Russian meddling in the 2016 election.
Furthermore, CNN noted, the investigation has focused on any collusion between Trump's campaign staff and Russians, along with specifically investigating the possibility that the president himself obstructed justice by impeding the investigation.