Road Trip Diaries: 5 incredible places to visit between Washington and Virginia Beach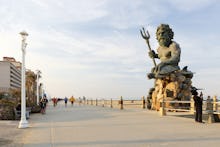 The road from Washington to Virginia Beach, Virginia, is a path through early American history: the monuments on the National Mall, George Washington's Mount Vernon, the Civil War-era battlefields of Fredericksburg and Mechanicsville, historic Richmond, James River plantations, Colonial Williamsburg and the first permanent English settlement at Jamestown. But one glance at a map of the Virginia coast, with its labyrinth of bays, wide Chesapeake tributary rivers and Atlantic beaches, also reveals an outdoor paradise where surfing, boating and whitewater rafting (in downtown Richmond) are the best ways to work up an appetite for a freshly caught seafood feast. This area is dynamic, delicious and the place to go for a complete adventure.
1. Taco Bamba Taqueria
2190 Pimmit Drive, Falls Church, Virginia 22043
For the best tacos in the D.C. metro area, try looking in the least likely of places. In a drab Falls Church shopping plaza, James Beard semifinalist Chef Victor Albisu's taqueria is using the freshest, highest-quality ingredients — ground chicharrones, candied chilies, spicy cotjia cheese, shishito pepper. Start your day with a breakfast taco (chorizo, egg, cheese, crema, guacamole and pico de gallo) and, while you're at it, grab a couple for the road from the evolving menu of signature tacos that feature less common ingredients like beef tongue and barbacoa.
2. George Washington's Mount Vernon
3200 Mount Vernon Memorial Highway, Mount Vernon, Virginia 22121
The sprawling, 500-acre riverside estate of our nation's first president is, if nothing else, a testament to the man's work ethic, enterprise and ingenuity. A micromanager of the highest order, George Washington oversaw every aspect, from the meticulous landscaping and fruitful gardens that cover the property, to the fields where he developed and tested progressive farming practices, to the resplendent 21-room mansion, which he slowly expanded (while fighting the Revolutionary War) over the second half of the 18th century. But none of that vision could've been realized without the forced labor of African slaves, a harsh reality that's recognized in a two-year-long exhibition, Lives Bound Together: Slavery at George Washington's Mount Vernon. It explores the personal stories of the people enslaved at Mount Vernon while providing insight into Washington's feelings about slavery, which, by the time of his death, evolved into staunch opposition. $18 for adults
3. Merroir at Rappahannock Oyster Company
784 Locklies Creek Road, Topping, Virginia 23169
It would be more than enough to enjoy fresh oysters in the spot where they're grown, the mouth of the Rappahannock River on Chesapeake Bay — sun on your back, a breeze on your face and sailboats dotting the water. But the shellfish at Merroir (the oysterman's play on terroir) are even sweeter because of the story behind them. Owners Ryan and Travis Croxton revived their grandfather's oyster company as Rapphannock Oyster Company in the early 2000s and, since then, they have worked with farmers, chefs, activists and politicians to resurrect the native Bay oyster and restore the waters of the Chesapeake. Merroir is an informal outdoor "tasting room," where diners can sample the unique taste characteristics imparted by the minerals, grasses, salinity and plankton of where they're grown. Try several native oysters raw or grill-roasted, alongside seafood classics like steamed clams, crabcakes and grilled fresh-catch fish.
4. Paddle the James River
Riverside Outfitters, 6836 Old Westham Road, Richmond, Virginia 23225
Located at the fall line of the James River, Richmond used those waterfalls and rapids to fuel local industry — iron works and flour mills — for centuries. But today, the nation's only urban class II-IV rapids are also being harnessed for guided whitewater rafting trips. Join Riverside Outfitters on a white-knuckle paddle down the Lower James through the best (and biggest) rapids in the heart of downtown, including the famed class IV Hollywood Rapid and the rock-choked class III Triple Drop. For a mellower day on the water, Riverside also offers paddleboarding, flatwater kayaking and calmer-water rafting where you can spot bald eagles and great blue herons between kid-friendly small-time rapids. From $59 per person on weekdays; from $69 per person on weekends
5. Cruise the Virginia Beach Boardwalk
Cherie's Bike Rental, 215 Atlantic Avenue & Boardwalk, Virginia Beach, Virginia 23451
Rent a cruiser from the Cherie's location outside the Schooner Inn hotel (there are 14 others scattered along the boardwalk), and cruise the three-mile-long boardwalk from south to north, stopping to watch fisherman hook Spanish mackerel and bluefish from the 1,000-foot-long fishing pier, load up on saltwater taffy at Forbes and stick your toes in the 100-yard-wide white-sand beach. If you're feeling ambitious, stay on the shoreline bike path all the way to 3,000-acre First Landing State Park, the spot where English settlers landed in April 1607 and established an elective government before pushing on to Jamestown. Beach cruiser rentals from $9