Trump's transgender military ban has been temporarily blocked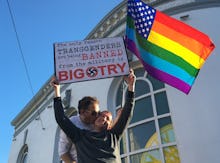 A judge's Monday decision in a federal court to temporarily block President Donald Trump's ban on transgender people serving in the U.S. military is receiving high praise from civil rights advocates and the trans advocacy community.
The suit against the transgender ban was brought by two LGBTQ advocacy groups on behalf of an anonymous plaintiff, according to court records.
In her ruling, Washington D.C. district judge Colleen Kollar-Kotelly stated that all branches of the military must disregard Trump's executive memorandum regarding transgender people and "revert to the status quo" established by then-President Barack Obama's June 30, 2016 executive directive.
"In all other respects, [Trump's] Presidential Memorandum is not enjoined," the judge wrote. "It is further ORDERED that the parties shall file a Joint Status Report indicating how they propose to proceed in this matter by no later than November 10, 2017."
No plans to appeal the decision have been announced yet. The next hearing for the ACLU's own challenge to Trump's transgender ban is scheduled to take place on Nov. 9, according to the Maryland U.S. District Court's calendar.
"There are three other lawsuits out there, including the ACLU's case in Maryland," Block noted. "Those cases are also going to keep moving forward. We need to see from the administration what its next step is."
LGBTQ advocates quickly took to Twitter Monday to express their approval.
GLAAD president & CEO Sarah Kate Ellis called the ruling "a major step in exposing Trump's policy as a hate-fueled attack on some of the bravest Americans" one that reflects the opinion of a majority of U.S. citizens, according to a July Reuters poll.
"Trans service members should be thanked, not relegated to second class citizenship," Ellis tweeted.
Transgender actress and advocate Laverne Cox, star of Netflix's Orange Is the New Black, retweeted a post from former Obama senior advisor Valerie Jarrett.
"We owe transgender service members a debt of gratitude," Jarrett posted. "Let them serve with dignity."
The court's ruling didn't throw out Trump's transgender ban entirely.
Matt Thorn, executive director of the military LGBTQ advocacy group OutServe noted that the ban is temporary, but a positive sign.
"The court has clearly recognized the Trump administration is discriminating. We hope this is the beginning of the whole policy being overturned," Thorn told the New York Times. "Hopefully the White House learns the Constitution doesn't allow you to do this kind of thing."