Mic Wakeup: Halloween freebies, why costumes at work are good and Manafort's ghost is haunting Trump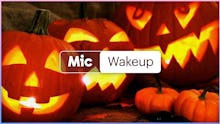 It's Tuesday, Oct. 31. Here are three stories you need to read.
Here's where you can go to get free stuff this Halloween
Halloween may be the greatest holiday of all. Why? Well, first it includes costumes, but also it includes lots and lots of free stuff, and not just candy.
Companies across the U.S. are giving away free goodies all day long this Halloween, including Applebees, who is giving away two free kids meals with the purchase of an adult meal at select locations, Papa John's, who is giving away a free one topping pizza with a $15 order (just use promo code "CREEPY") and Burger King, who will give anyone dressed as a creepy clown (looking RIGHT at you, McDonald's) a free Whopper (there are restrictions).
Wait, is there more free stuff? Yes, a ton of restaurants are giving away free or discounted food for costumers in costumes.
Why it's a good thing your HR department insists on everyone dressing up for Halloween
Sure, dressing up in a Halloween costume feels a bit weird as an adult at work, but it turns out that getting dressed as a pumpkin, witch or ghost for your bit accounting presentation is actually an excellent sign for your workplace moral.
According to a recent survey by employee engagement company O.C. Tanner, employee engagement was higher in workplaces that allowed people to dress up for Halloween.
"Halloween is a great opportunity to increase engagement and well-being amongst teams," Gary Beckstrand, vice president at O.C. Tanner, said in an emailed statement to Mic. "But it's less about the fact that people are dressing up or going to an office party, and more about the byproducts of allowing employees to do those types of things." 
So what should I be for my office Halloween bash? It really depends on your workplace, but we'd maybe save the sexy ghost costume for your friends.
Paul Manafort just gave Robert Mueller a real Halloween Treat
On Monday, special counsel Robert Mueller brought the first criminal charges against Trump campaign manager Paul Manafort and Rick Gates, Manafort's former business associate, in connection to the ongoing investigation into possible collusion between Russia and the Trump presidential campaign.
The charges against the men include "conspiracy against the United States, conspiracy to launder money, [acting as an] unregistered agent of a foreign principal, false and misleading [Foreign Agent Registration Act] statements, false statements and seven counts of failure to file reports of foreign bank and financial accounts."
Of all of these charges "conspiracy against the United States" may be the closest tie to the Russian investigation. But what does that charge really mean, anyway?
According to section 371 of the U.S. criminal code, "If two or more persons conspire either to commit any offense against the United States, or to defraud the United States, or any agency thereof in any manner or for any purpose, and one or more of such persons do any act to effect the object of the conspiracy, each shall be fined under this title or imprisoned not more than five years, or both." The section added, "If, however, the offense, the commission of which is the object of the conspiracy, is a misdemeanor only, the punishment for such conspiracy shall not exceed the maximum punishment provided for such misdemeanor."
Can I expect more people to be charged? According to former U.S. Attorney Preet Bharara, who Trump fired earlier this year, there will likely be more arrests. As he tweeted, "Special Counsel Mueller already has one criminal conviction. And this plea portends more charges to come."