Fox News smeared the black judge presiding over Manafort's case. This is part of a larger pattern.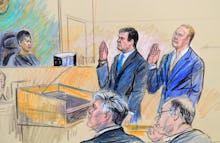 Ordinarily, the fact that U.S. Magistrate Judge Deborah A. Robinson, on Monday, presided over the first court appearance of former Trump campaign chairman Paul Manafort and Manafort associate Rick Gates would be a footnote in the larger story of the campaign's ties to Russian officials.
But Robinson is a black woman.
So it took almost no time for conservative media to report things about Robinson's personal and professional life that aren't exactly relevant to her role as the preliminary judge in Manafort and Gates' charges of money laundering, tax evasion and conspiracy against the United States.
In an article published Monday afternoon, Fox News quickly mentioned that Robinson had previously presided over cases involving "big-name" defendants. The article went on to point out that the veteran federal judge "has experienced the criminal justice system firsthand — when her son was convicted of dealing heroin."
The Fox piece also cites reporting by the small and seemingly right-leaning law news website, Tickle the Wire — its masthead lists nearly a dozen men as staff and contributors. According to the outlet, Robinson's son was sentenced to five years in federal prison for possession of heroin and intent to distribute.
The coverage of Robinson is clearly a dog-whistle to tarnish her credibility. But this isn't new. Judges of color have had to contend with scrutiny of their family histories and allegations of racial bias, as they decide the fates of powerful, wealthy defendants and police officers. However, the scrutiny on Robinson's background also highlights a reality that women and black people have long been underrepresented on the federal bench.
Robinson was first sworn in as a federal judge in 1988, after serving as a clerk for the chief judge in the Superior Court of the District of Columbia and joining the U.S. Attorney's Office in Washington. She received her undergraduate education from Morgan State University, a historical black college in Baltimore, and a law degree from Emory University School of Law in Atlanta.
But credentials can mean little to those trying to tarnish the reputations of men and women who sit behind the bench. In 2016, then-presidential candidate Donald Trump drew criticism from conservatives when he disparaged a U.S. judge overseeing two lawsuits against Trump University. Trump told the Wall Street Journal that Judge Gonzalo Curiel's "Mexican heritage" presented an "inherent conflict of interest" in deciding the case, because Trump had been a hardliner on immigration and proposed building a wall along the U.S.-Mexico border.
The question of a judge's race and background also came up during the trial of Jeronimo Yanez, the former St. Anthony, Minnesota, police officer acquitted of second-degree manslaughter in the July 2016 shooting death of Philando Castile. The lawyers for Yanez had Ramsey County Judge Edward Wilson, who is black, removed from the case. Minnesota law did not require the former officer's lawyers to provide a reason — although some members of the greater Minneapolis-St. Paul community suspected Wilson's removal was related to his having served on the state Supreme Court Racial Bias Task Force.
Diversity among federal judges is an issue that civil rights leaders routinely raise when presidents get to fill vacancies in lower courts and in the Supreme Court. According to the National Women's Law Center, women of color are underrepresented on federal benches, comprising just 10.5% of judges. On the other end, the nation's law schools have become more diverse — but many are overwhelmingly white and male, according to a report of the Brennan Center for Justice.
Nonetheless, diversity on the bench does matter, as a 2015 study by University of Georgia political science assistant professor Christina Boyd highlights. Black judges overseeing cases brought by the Equal Employment Opportunity Commission decided in favor of race discrimination plaintiffs roughly 65% of the time. White judges decided in favor of plaintiffs only 22% of the time, according to Boyd's study.
Dog-whistle attacks against jurists like Robinson, whether from the media or from defendants, only draw more attention to the effort needed to make the judiciary branch more representative of the U.S. population. Besides, what did Robinson do to warrant a mention of her son's drug conviction, other than show up to work on Monday?