Veterans Day 2017 Freebies: All the free meals and deals you can score on this national holiday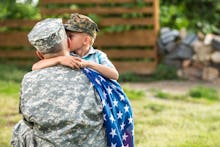 Nearly a hundred years since the fighting in World War I ended, Americans don't just celebrate Armistice Day, better known as Veterans Day, with parades to honor those who have served in the armed forces. We also celebrate with sales, deals and freebies galore.
But while lots of restaurants are offering free meals, haircuts and entertainment for vets and their families, not all the deals are worth your while. To help you find the deals with the biggest payoff, Mic combed through offers from restaurants, retailers and other businesses and estimated the dollar value of each by checking the regular price.
While free meals are a dime a dozen, some of the best deals include a free night at a bed and breakfast, free admission to an amusement park and free entry to national parks for everyone — even if you're not a military veteran.
Veterans Day isn't until Saturday, Nov. 11, but many of the deals start early, including Chipotle's buy-one-get-one-free offer on Tuesday, Nov. 7 and free admission at Knott's Berry Farms in southern California (worth up to $75), which kicked off on Nov. 1. Other deals, like free admission to the Harley-Davidson Museum, extend beyond Veterans Day itself.
One last tip: Make sure to read the fine print before running out to get your freebies. Some giveaways are for military members only, while others include spouses and other family members. Finally, don't forget to bring your military identification. All offers apply to active-duty military and veterans and are for Veterans Day only unless otherwise noted.
Free meals
Applebee's: Celebrating its 10th year of honoring veterans, Applebee's is offering a free meal, worth about $10.19 for a burger or $13.29 when you opt for the double crunch shrimp.
BJ's Restaurant and Brewhouse: On Nov. 10 and 11, all military service members can enjoy a free entree valued up to $12.95.
Bob Evans: Choose one of six free breakfast, lunch and dinner selections at all locations. Items include country fried steak for about $7.99 to $9.99 and brioche french toast for around $4.99.
Chili's: Chili's continues its tradition of offering complimentary entrees, when participating locations will offer such menu items as chicken crispers (valued around $10.49) and chicken bacon ranch quesadillas (regular price of $10.29 or so), among other choices.
Chipotle: Veterans who buy one burrito, burrito bowl, salad or order of tacos, valued up to $9.60, get a second free for an early Veterans Day deal on Tuesday. Military spouses can get in on the deal, too, if they show ID.
Chuck E. Cheese: Receive a free individual one-topping pizza valued around $6.99 using promo code 5500. Get a free slice of the chain's Double Chocolate Fudge Coca-Cola Cake, worth about, worth about $4.
Denny's: Enjoy a free build-your-own Grand Slam breakfast Nov. 10, valued up to roughly $10.
Friendly's: Veterans and active-duty military can snag a free breakfast, lunch or dinner, worth up to about $10, on Nov. 11.
Golden Corral: On Nov. 13, get a free dinner valued up to $14. (Dine-in only.)
IHOP: Stop in for your free stack of Red, White and Blue pancakes on Friday, Nov. 10, worth about $8.50.
Little Caesars: Score a free $5 lunch combo, which includes four slices of deep-dish pepperoni pizza and a 20-ounce Pepsi product.
Margaritas Mexican Restaurant: Veterans and active-duty military — along with their significant others — can snag a complimentary entree, valued around $16 each.
Max & Erma's: Get a free half-pound cheeseburger, endless fries and fountain drink, worth about $13.
McCormick & Schmick's: Parents and spouses of Gold Star recipients, as well as veterans, are treated to a free entree from the restaurant's special Veterans Day menu on Nov. 5. Choices include a cheeseburger (regular price of roughly $16.50) or a chicken chopped salad (worth around $17).
Mimi's Cafe: Dig into a free entree, regularly priced up to $20, with purchase of a beverage and proof of service.
O'Charley's: Chow down on a free meal from the restaurant's $9.99 menu. Choices include chicken tenders and fries, honey drizzled southern-fried chicken, chicken pot pie and more.
Olive Garden: Enjoy a free entree from a special Veterans Day menu. Selections come with breadsticks and unlimited homemade soup or salad and are valued at up to $28 at some locations. (Dine-in only.)
Primanti Brothers: Order a free Primanti Bros. sandwich, valued at roughly $10. (Dine-in only.)
Red Robin: Have a free Red's Tavern double burger and bottomless steak fries, valued at about $13.
Shoney's: Come hungry to Shoney's for a free all-you-can-eat breakfast bar from 6 a.m. to 11 a.m, worth about $10.
Sizzler: Free lunch for veterans and active-duty members Nov. 11. Lunch choices include a 6-ounce sirloin steak or six jumbo crispy shrimp, plus your choice of side dish and drink at participating locations. Offer valued at around $13.
TGI Friday's: Guests who show a military ID are treated to a free lunch entree (up to $12) from 11 a.m. to 2 p.m. Nov. 11. You'll also receive a $5 coupon for your next visit. (Dine-in only.)
White Castle: Free breakfast or Castle Combo meal for active-duty military and veterans Nov. 11. Castle Combo meals are valued at around $8.50.
Wienerschnitzel: Get your free chili dog, small fries and small drink, worth about $6.50.
Free entertainment and services
Aquarium of the Pacific: Free admission to this Long Beach, California, aquarium. General adult admission is typically $29.95.
B&Bs for Vets: Free night at select bed and breakfasts on or around Veterans Day. Click the "Special Offers" tab see participating B&Bs near you. For reference, a premier cottage at the quaint Maine Stay Inn & Cottages in Kennebunkport, Maine, can cost up to $400 a night.
Grace for Vets: Get a free car wash, worth about $15. Grace for Vets is a nonprofit organization that helps participating car wash operators extend this offer on Veterans Day.
Great Clips: Free haircut, which is worth about $15.
Harley-Davidson Museum: Free admission for veterans, active-duty military members and their families (up to four children 18 years of age or younger) from Nov. 10 to Nov. 12 at the Milwaukee museum. Unless you're a H.O.G. member, general admission is typically about $20.
Knott's Berry Farm: Enjoy free admission to this Buena Park, California amusement park for active military, veterans and one guest, now through Nov. 16 and again from Nov. 27 to Dec. 15. Daily admission costs $45 when you buy online or $75 at the gate.
National parks: Nov. 11 and Nov. 12 are free entrance days for all visitors, even if you've never served in the military. Regular admission prices for parks vary by location, but you can pay up to $30 just to enter Yosemite National Park.
Sport Clips: Enjoy a free haircut, worth about $19.
Sign up for the Payoff — your weekly crash course on how to live your best financial life.