Sayfullo Saipov, 29, identified as Manhattan car attack suspect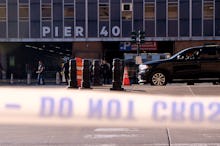 On Tuesday New York police responded to the scene of a truck attack in Lower Manhattan where a man, now identified as Sayfullo Saipov, drove off the street and onto a nearby bike path. There, he struck and killed eight people and injured several more.
According to CBS, Saipov is a 29-year-old male from Tampa, Florida. Citing a U.S. official familiar with the matter, the Associated Press reported that the suspect is originally from Uzbekistan.
At a press conference on Tuesday, New York City Mayor Bill de Blasio affirmed that New Yorkers would be "undeterred" by the violent attack.
"We know this action was intended to break our spirit," de Blasio said. "We'll respond as we always do, we'll be undeterred."
According to reports after coming to a stop, Saipov exited the Home Depot truck he was driving and displayed imitation firearms before being shot by police. According to witnesses who spoke to CNN, the suspect yelled "Allahu Akbar" before being shot.
The incident is being investigated as a possible terror attack and the FBI's Joint Terrorism Task Force will now be leading the investigation.
In a statement, ride-sharing tech company Uber confirmed that Saipov "passed a background check to become an Uber driver and had been actively driving on the platform for more than six months," AP reported.
On Wednesday morning, President Donald Trump tweeted that the suspect came to America through the "Diversity Visa Lottery." He used the opportunity to attack Democratic Senate Minority Leader Chuck Schumer.
Nov. 1, 2017, 7:59 a.m.: This story has been updated.