Mic Wakeup: Everything we know about the Lower Manhattan terror attack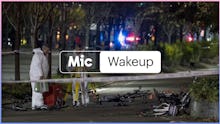 It's Wednesday, Nov. 1. Here's a quick recap of yesterday's events.
8 people died in a horrific truck attack in Lower Manhattan
On Tuesday, New York police responded to the scene of a deadly truck attack in Lower Manhattan.
According to authorities, a man drove a Home Depot truck off the street and onto a nearby bike path where he struck and killed eight people and injured several more.
The suspect was identified as Sayfullo Saipov
The suspected truck driver was identified as 29-year-old Sayfullo Saipov. quickly after his arrest on scene. According to the New York Times, Saipov arrived in the United States in 2010 from Tashkent — the Uzbek capital and its largest city— and stayed in Ohio.
Eventually Saipov moved from the Midwestern state to Florida and eventually to New Jersey where he landed work as an Uber driver, according to the Times.
"We have been in contact with the F.B.I. and have offered our assistance," an Uber spokesperson told the Times. "We will remain in close contact with law enforcement and the F.B.I. to assist with their investigation. We are aggressively and quickly reviewing this partner's history with Uber, and at this time we have not identified any related concerning safety reports."
Saipov, the Times noted, had a valid green card.
Several of the victims have been identified
According to Fire Commissioner Daniel A. Nigro, five of the eight victims died on the scene. As the New York Times reported, five of the eight people killed were Argentine tourists who were in New York for their 30-year high school reunion. Argentine authorities have identified the victims as Hernán Mendoza, Diego Angelini, Alejandro Pagnucco, Ariel Erlij and Hernán Ferruchi. Belgian authorities are also reporting that one victim is from Belgium.
Authorities are calling it a terror attack
On Tuesday New York City Mayor Bill de Blasio called the event "an act of terror, and a particularly cowardly act of terror." De Blasio added, "We know this action was intended to break our spirit. We'll respond as we always do, we'll be undeterred."
The FBI's Joint Terrorism Task Force is leading the investigation.