Muslim New Yorkers are bracing themselves for hate crimes after Tuesday's terror attack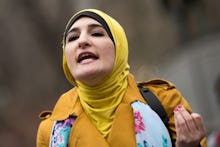 New York activist Linda Sarsour was at John F. Kennedy International Airport waiting to board a flight to San Diego Tuesday afternoon when news broke that a truck driver had killed multiple people in Lower Manhattan.
As she watched subtitled cable news reports scroll across a terminal television, the co-organizer of January's historic Women's March on Washington said to herself what many Muslim Americans find themselves saying after a terror attack.
"I was thinking, 'Please, God, don't let it be a Muslim,'" Sarsour said in an interview Wednesday morning.
Her fears were realized around 1:45 p.m. when she saw reports indicating the attacker allegedly shouted "Allahu Akbar" after fleeing his truck.
Around 2:45 p.m. authorities identified 29-year-old Sayfullo Saipov, who is originally from Uzbekistan, as the suspected driver.
Sarsour, who routinely wears a hijab, said no one at the airport gave her dirty looks or comments Tuesday. After tweeting her condolences on Twitter, however, the responses she received were predictably vicious.
"These are the kinds of things that happen when the perpetrators are Muslim," Sarsour said. "We are blasted as a community. People are put in situations where they feel targeted, they feel afraid."
In 2016, there were 2,213 anti-Muslim bias incidents that took place in the U.S., a 57% increase from 2015, according to a May report from the Council on American-Islamic Relations.
CAIR New York executive director Afaf Nasher indicated the number of bias incidents targeting Muslims in 2017 was already on track to surpass the previous year's before Tuesday's alleged terrorist incident.
In January, 57-year-old Robin Rhodes was charged with nine hate crimes after allegedly physically assaulting a Muslim employee at JFK airport, adding that President Donald Trump "will get rid of all of you," according to Reuters. He pleaded not guilty in March. The final outcome of his case is still pending, according to court records.
In May, Bronx substitute teacher Oghenetega Edah allegedly pulled the hijab off a second-grader's head as punishment for misbehaving in class, according to the New York Daily News. Edah's next related court appearance is set for Dec. 19, court records show.
More recently in Brooklyn, according to Nasher, police were called to an apartment complex where a Muslim woman and her family were being harassed with slurs and threats.
"When there's an attack like this, as New Yorkers and as human beings, we're already victimized as much as everybody else other than the victims and their families," Nasher, who is Muslim, said. "The question of religious identity only comes up with Muslims. We don't see the same kind of rhetoric associated with any other violent attacker."
CAIR New York president Zead Ramadan is used to running through the usual list of terror facts after Muslim extremists commit mass murder. He was forced to run through some of them Tuesday with his son after trick-or-treating.
"My 13-year-old is very conscious of what's going on," Ramadan said. "He asked, 'Was [the suspect] Muslim?' in a very head-turned-down way, cringing for the worst. I said to him, 'Yes, but it's not your fault. It's not my fault. It's not any Muslim's fault. It's a crazy person's fault.'"
The 51-year-old father of two pointed out that there are 1.6 billion Muslims in the world, and the vast majority of people victimized by radical Islamic terrorists around the globe are other Muslims.
Tuesday's was the first U.S. terror attack executed by Islamic extremists in 2017. Prior to the current year, more than two-thirds of extremist attacks carried out on U.S. soil post 9/11, were orchestrated by non-Muslim extremists, including white supremacists and anti-government radicals, according to an April report from the U.S. Government Accountability Office.
Ramadan and other American Muslims struggle to comprehend why Buddhist nationalists who burn babies alive in Myanmar, or Christian extremists apparently targeting Muslims in the Central African Republic somehow manage not to stain their entire religion the way ISIS and al-Qaida have for Muslims in the West.
"Our children are psychologically traumatized by people who claim to do this in the name of their religion," Ramadan said. "These sorts of acts are not in the name of God. They're in the name of insanity and destruction."
Sarsour didn't understand why Fox News felt it was important to report from outside Saipov's alleged mosque in Paterson, New Jersey Wednesday morning, fearing it could lead resulted in targeted attacks against Muslims living nearby.
She recalled speaking with two fearful Muslim college students outside a San Diego restaurant Tuesday evening after having a meal with a local activist there.
Two days prior, a person on Twitter threatened to kill Sarsour after she tweeted about anxiously anticipating who Robert Mueller would indict on Monday.
The tweet has since been deleted, and the user's Twitter account has been suspended.
"The students recognized me and were like, 'We're going to university tomorrow. We don't know what to do,'" Sarsour said. "I told them, 'You condemn these acts of terror, but you should not have to apologize because this perpetrator was Muslim. You can't be in that frame of mind.'"