Mic Wakeup: Victims of Manhattan attack identified and Trump's already talking immigration reform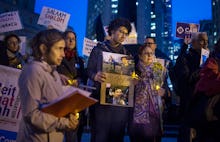 It's Thursday, Nov. 2. Here are three things you need to know
These are the victims of Tuesday's lower Manhattan terror attack
On Tuesday, 29-year-old Sayfullo Saipov drove a rented Home Depot truck off the road and onto a crowded sidewalk where he killed eight people and wounded several more.
Those killed in the apparent terror attack included five Argentine nationals: Hernán Mendoza, Diego Angelini, Alejandro Pagnucco, Ariel Erlij and Hernán Ferruchi. The friends had all been visiting New York as part of a 30-year celebration of their friendship.
According to officials, Ann-Laure Decadt, a Belgian national and mother of two was also killed along with 32-year-old New Jersey native Darren Drake.
Decadt was in the city with her sister and mother, according to Belgian Deputy Prime Minister Didier Reynders.
Drake's mother, Barbara Drake, told the New York Daily News that her son was a "wonderful person" and "At lunch, he would go to the bike trail. He just loved to travel and embraced life."
Trump took the terror attack as an opportunity to push immigration reform
Less than 24 hours after Saipov killed eight people, President Donald Trump began tweeting his ideas on immigration reform.
"The terrorist came into our country through what is called the 'Diversity Visa Lottery Program,' a Chuck Schumer beauty," Trump tweeted Wednesday morning. "I want merit based," Trump added.
"We are fighting hard for merit-based immigration, no more Democrat lottery systems," Trump added. "We must get MUCH tougher (and smarter)."
Trump's quick response to this attack is in stark contrast to his tweeting style after both the Las Vegas shooting, where 58 people were killed, and to the violence in Charlottesville, Virginia, which saw an alleged white supremacist drive a car into a crowd and kill one peaceful protester. After Las Vegas, Trump refused answer questions on gun control and following Charlottesville he refused to even place blame on the man who killed an innocent woman.
New York's Islamic groups face tough new challenges
In the wake of Tuesday's tragedy, New York's Islamic groups are facing new pressures and new concerns over the way the Trump administration is reacting to the event.
As Albert Fox Cahn, the legal director for the New York chapter of the Council on American-Islamic Relations, told Mic, he is not only heartbroken over the attack and loss of life, but also "incredibly disturbed to see that there are politicians who are trying to capitalize on this tragedy to attack the Muslim community and attack the values that New York stands for."
He added, "We can't let the president's political rhetoric turn CBP [Customs and Border Protection] into simply an agent of discrimination. Our focus is on monitoring CBP's practices and making sure that they aren't taking any measures that violate the constitutional rights of Muslim Americans or any other marginalized community."
Violation or not, it appears Trump is already targeting specific groups by insisting on added measures to what he calls America's "already Extreme Vetting Program."