Prosecutor: NYPD Officer Wayne Isaacs rolled down his car window with intent to kill Delrawn Small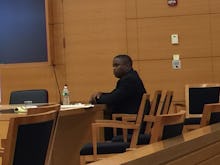 NYPD officer Wayne Isaacs on Wednesday told jurors he was driving with his window down on Atlantic Avenue in Brooklyn around midnight on July 4, 2016, well before he stopped at the traffic light where he fatally shot Delrawn Small.
Assistant Attorney General Joshua Gradinger showed evidence to the contrary during his closing argument Thursday morning, projecting a blow-up still image from surveillance video of the intersection taken that night as jurors and courtroom officials looked closely.
The black and white image appeared to show white light reflecting off the driver's side window of Isaacs' Nissan Altima. Minutes before, Gradinger played back video on a TV monitor, which showed Small walking up to Isaacs' window moments after the still image was captured, to confront the off duty officer for cutting him off in traffic.
"The window is up," Gradinger told the jury in the packed courtroom filled with plainclothes police, supporters of Small, and a handful of reporters.
"Objection" said Isaacs' defense attorney Stephen Worth, exercising a legal challenge rarely used during closing arguments.
"Overruled," Judge Alexander Jeong replied.
Gradinger argued that Isaacs can't credibly claim self-defense if he rolled his window down when Small approached his vehicle, saying the officer must have done so with intent to shoot the unarmed man who was driving with his girlfriend and two children that night.
"[Isaacs] was being less than forthright with you about that window being down," Gradinger continued. "He lowered his window for one reason, to kill [Delrawn Small]. That's murder."
Isaacs, 38, is charged with second-degree murder and first-degree manslaughter for fatally shooting Small after the unarmed Brooklyn man confronted the officer.
The NYPD veteran is the first police officer in New York state to be tried under Gov. Andrew Cuomo's 2015 executive order giving power to the attorney general to "investigate and prosecute officers for civilian deaths at their hands or in their custody," according to the New York Times.
After a 15-minute recess, Jeong told jurors they have the option to convict Isaacs of murder or the lesser charge of manslaughter.
The murder charge would require prosecutors to have proven Isaacs intended to kill Small when he shot him three times at point blank range. For a manslaughter conviction, the state only needs to have proven Isaacs intended to cause Small "serious bodily harm."
The judge said jurors must also consider whether Isaacs' fatal actions, which he claims were self-defense, are something a reasonable person would do.
"[Prosecutors] are required to prove beyond a reasonable doubt that the defendant was not justified," Jeong said.
The trial's 12 jurors went into deliberation Thursday afternoon.
At 1:42 p.m. the jury sent out a note requesting to view all the surveillance videos shown in court.
At 2:06 p.m., Jeong read a note written by the jury foreperson, which asked the court to remove one of the jurors who the foreperson claimed was refusing to participate in the deliberations.
Isaacs' defense team wanted to know what the juror's issue was.
"I ask the court to require [the juror] in the open room to say why [he or she] has a problem and we will decide if we need an alternate," Worth said.
Jeong brought the jury back into the courtroom and instructed them not to get bogged down in personal disputes.
"There's 12 of you with various personalities," Jeong said. "There's no set way to participate in deliberations. Just because someone's sitting there and not saying anything doesn't mean they're not listening... I expect all of you to cooperate."
Jeong previously instructed the jury to try and come up with a verdict by Monday.