Mic Wakeup: Dems fight for DACA, Gothamist shuts down and why "Middle Eastern-looking" isn't right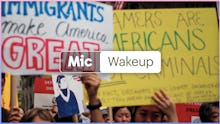 It's Friday, Nov. 3. Here are three stories you need to read.
House and Senate Democrats are ready to shut down the government to protect DACA recipients
On Thursday, House and Senate Democrats made it known that they are willing to shut down the entire U.S. government if provisions for protecting DACA recipients are not kept in a year-end deal to fund the government.
Here's how that could happen: As Mic previously explained, Republicans need Democratic votes in both the House and the Senate to keep the government open. So, if a number of Democrats oppose a funding bill that does not come with the protections they want for people who immigrated to the U.S. as children, the government could shut down at the end of the year.
"It is reprehensible that Senate Republicans and the president would devise a scheme to hold the Dream Act hostage," Michelle Lujan-Grisham, chairwoman of the Congressional Hispanic Caucus, said. "A clean bipartisan, bicameral Dream Act is the solution and should be taken up for a vote without delay."
In September, President Donald Trump abruptly announced that he would be ending the DACA program with just six months' notice. This has now left an estimated 800,000 people in the lurch and in the dark about what their future holds.
What can I do? You can call your representatives now if you feel DACA provisions need to stay in place.
RIP to DNAinfo and Gothamist
On Tuesday DNAinfo and Gothamist founder Joe Ricketts announced he would be shutting down both websites effective immediately.
The closure news comes just six days after the staffs at both publications overwhelmingly voted in favor of unionizing.
Following the announcement both websites redirected to a letter written by the founder and billionare, explaining that the business simply wasn't making enough revenue to sustain any longer.
"DNAinfo is, at the end of the day, a business, and businesses need to be economically successful if they are to endure," Ricketts wrote in part. "And while we made important progress toward building DNAinfo into a successful business, in the end, that progress hasn't been sufficient to support the tremendous effort and expense needed to produce the type of journalism on which the company was founded."
Both of the website's archived stories were deleted.
Calling the Lower Manhattan terror suspect "Middle Eastern-looking" is both harmful and inaccurate
On Tuesday, Sayfullo Saipov drove a Home Depot truck off the road and onto a crowded sidewalk in New York City, killing eight people and injuring a dozen more.
Almost immediately after the tragic event New York City Mayor Bill de Blasio called it an "act of terror" while police identified Saipov as a "Middle Eastern-looking man."
The problem is, he's not Middle Eastern — he's from the country of Uzbekistan, a central Asian nation.
Moreover, as anti-hate group leaders explain, the descriptor has become a harmful tool, which is now being associated with terrorism.
"What we're seeing is that literally the word 'terrorism' is only being used to describe incidents when the person is perceived to be Muslim," Murad Awawdeh, vice president of advocacy at the New York Immigration Coalition, said in a phone interview with Mic. "Not only does it create a breeding ground for hate, it demonizes and puts a target on the backs of people who are perceived to be Muslim."
However, this behavior is not knew, or even the product of a post-9/11 world. As Mic previously reported, even Timothy McVeigh, a white man who was born in New York and later killed 168 people in the Oklahoma City Bombing, was first described as a "Middle Eastern-looking man" before he was apprehended.
What can I do to help? You can read up on and take part in organizations like the New York Immigration Coalition through volunteering, training and public events.