High levels of air pollution in the U.S. is linked to psychological stress, study says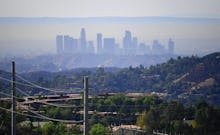 Toxic air is already a serious problem for Americans. Every year, about 200,000 people in the U.S. suffer an early death because of air pollution, according to a 2013 study, and poisonous particles have also been connected to lung and heart disease.
Now, a recent study from the University of Washington discovered a higher rate of mental distress in high-pollution areas.
"The effects of air pollution on cardiovascular health and lung diseases like asthma are well established, but this area of brain health is a newer area of research," Anjum Hajat, an assistant professor of epidemiology at the University of Washington School of Public Health, said in a release.
Hajat and her colleagues looked at pollution levels between 1999 and 2011, as well as a population sample's self-reported "psychological stress" — their feelings of hopelessness, sadness or nervous. They found that psychological distress scores in high-pollution areas were 17% higher, even after controlling for several behavioral, socioeconomic and health factors.
The damage isn't doled out evenly, either, according to their measurements. White women and black men who participated in the study showed particularly high levels of distress in heavily polluted areas, though researchers aren't exactly sure why.
"Our society is segregated and stratified, which places an unnecessary burden on some groups," Victoria Sass, the study's primary author and a graduate student in the University of Washington's Department of Sociology, said in the release. "Even moderate levels can be detrimental to health."
The air pollution measured is called "fine particulate matter" — incredibly tiny, inhalable chemical particles that can cast a haze over areas experiencing a high output.
Always less than 2.5 micrometers in diameter, a single particle of this air pollution is about 1/28 the width of a single strand of hair. This type of pollution primarily comes from cars, coal or natural gas power plants, factories, construction sites, fires and other sources.
We may not always be able to literally see it, but air pollution is having a grave impact on American lives.