Thanksgiving Travel Deals 2017: Best last-minute tips to save on flights, hotels, rental cars & more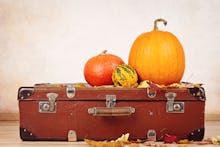 If you just recently took a break from eating Halloween candy to discover there's only a handful of weeks until turkey time, you're not alone. Although Thanksgiving always arrives on the fourth Thursday of November, the actual date varies from year to year, which means it easily sneaks up on you.
Haven't made your travel plans yet? Now is the time to act. The good news is you aren't out of luck if you want a deal on flights, rental cars and hotels. But don't procrastinate any longer, as Thanksgiving 2017 is expected to be the busiest on record, Reuters recently reported.
Airlines for America anticipates a 3% increase in travelers over 2016, so the earlier you book your flight, the better. "Because so many people travel during the holiday season, flight prices can drastically and quickly increase — and fill up," Kimmie Greene, a money expert at Mint, said in an email interview. "You want to book your travel sooner rather than later."
It typically costs more to travel around the holidays, and crowded airports are a hassle. To reduce costs, Emily McNutt, associate editor at the Points Guy, recommends watching for flash sales and knowing the sneaky fine-print rules of discount airlines — such as charging fees to print boarding passes. She said flexibility will save you the most money. "Consider departing from airports in the surrounding area," McNutt said in an email interview.
It's not just flight prices that can rise. You'll need insider tips on how to save cash, no matter if you're driving, renting a car, staying in a hotel or dining out during the holiday weekend. Here are three key ways you can still snag solid Thanksgiving deals.
1. Get Thanksgiving flight deals
It's not too late to save on Thanksgiving travel: "Fares should remain reasonably low until about the 12th of November. After that, you can expect fares for the week of Thanksgiving to rise quickly — and maybe even worse, availability to also begin to rapidly disappear," Keith Nowak, director of communications for Travelocity, said in an email interview.
The travel app Hopper found the best round-trip flight deals available now; here are some of the top value routes:
New York City to Boston — $168 (Nov. 21 to Nov. 26)
If open Thanksgiving plans mean you're free to get out of the country instead of just out of town, you may find even better deals. "Oftentimes, international fares are just as cheap — if not cheaper — than if you were to stay here in the states," McNutt said. Given that the U.S. holiday tends to keep people visiting family stateside, that makes sense.
Here are some of the best international flight deals, according to Hopper:
New York City to Toronto — $231 (Nov. 23 to Nov. 27)
Of course, assuming you're locked into a domestic trip, you might feel trapped into having to pay up for plane tickets. A smart option, if you can take it, might be to take an extra day off work. "It certainly pays to be flexible — even if by one day," Hopper spokeswoman Liana Corwin said.
For example, if you're willing to travel on the Monday after Thanksgiving, the cost of a round-trip flight from Los Angeles to Denver drops by $172 ($190 versus $362). For the same dates, a trip from Los Angeles to Vancouver falls by $129 ($239 versus $368).
Avoid additional fees by checking airline rules for the specific ticket you purchase, too. "For example, new 'basic economy' fares may not include a checked bag as part of the fare," Nowak said. That could mean paying an extra $60 for just one checked bag, depending on the airline.
2. Hit the road for less
Planning to hit the road? You'll probably need to make some same-day decisions when it comes to determining your exact route, as millions of Americans typically clog up the roads during the Thanksgiving holiday.
Approximately 89% of Thanksgiving travelers drove in 2016, a 1.9% increase over 2015. That means finding a strategic route that gets you to your destination quickly and safely should be a priority.
Here are four tricks to save when hitting the road:
Avoid tolls
Use Google Maps to navigate around those pesky tolls if the roads aren't jammed. While Maps may direct you to use a toll road, you can easily turn off this feature by selecting "Route Options" and then "Avoid Tolls" within the app.
If you're renting a car, you'll really want to pay close attention to the "Avoid Tolls" feature, as some rental companies add "convenience fees" to the average toll, according to the Points Guy. For example, Dollar and Thrifty each charge a $15 fee per toll unless you opt into a $8.99 daily "all-inclusive" toll plan; Alamo tacks on an additional $3.95 every day. Other than avoiding toll roads entirely, the Points Guy suggests paying for tolls in advance and selecting the right car rental company.
Find cheap gas
Finding cheap gas is a lot easier with apps like Gas Buddy and Route4Me, but but what else can you do to pay less for fuel? Gas Buddy's fuel-saving tips include driving the speed limit, keeping tires properly inflated and turning off the car if you anticipate being idle for longer than one minute. If you're traveling through multiple states, check the average gas prices along your route, as you may save more in one state over another.
Get the best bus fare
Another handy app that can help you get a better rate on your bus trip is CheckMyBus, which allows you to search for such deals as a $25 one-way trip from New York City to Baltimore on the morning of Nov. 21.
You can also search for discounts on sites like Retail Me Not for fare sales on Megabus, or on Offers.com for BoltBus deals.
Snag discounts for car rentals
You can save 30% off the price of renting a car if you prepay for your rental through Avis, a representative told Mic: You can also save $15 at Budget when you spend $125 on the base rate or use Budget's Pay Now rate to save up to 35%. Other Avis deals include a spend $100, get $10 off; spend $125, get $15 off; or spend $175, get $25 off base rates.
Another way to cut costs? Book your rental through Costco or BJs. And while you can usually decline the insurance, don't forget to fill up the gas to avoid charges. Fnal tricks to lower your rental rate include shopping online first, checking "off-brand" rental companies like Payless or Fox, and skipping renting your vehicle at the airport — the latter of which can save you as much as 50%, according to Consumer Reports.
3. Get a bargain on a hotel
Whether staying with relatives isn't a good option or you just need your space, you're not alone: In Skyscanner's 2014 Thanksgiving Travel Index, 52% of travelers surveyed would rather stay at a hotel than bunk down their parents.
If you haven't booked that room yet, you're probably not out of luck. More hotel discounts may pop up in the coming weeks, with prices often taking a nose dive immediately before Thanksgiving, according to Henrik Kjellberg, president of the Hotwire Group, who spoke with MarketWatch in 2013.
You can also try bundling your flight and hotel together. "In most cases, that will result in a discount over booking separately," Nowak said. "Also, since Thanksgiving travel usually means a family trip, it's worth looking past the first room that appears on the hotel page [to] figure out [whether] a two-bedroom suite might actually be a cheaper option than two single rooms."
Kjellberg said last-minute hotel room rates are "typically 20% cheaper than a few days prior." One smart strategy is to book early — somewhere with no cancellation fees — and cancel if you score a better deal later.
To get the most for your dollar, look for hotels that offer complimentary amenities such as free breakfast and no parking fees, Jeanette Casselano, director or public relations for AAA said in an email. "Also, check what facilities are available at the property that will enhance your stay, such as a pool, arcade or children's programs that could save money on entertainment expenses," Casselano added.
And don't forget to scan travel and discount sites like Priceline, Hotels.com and RetailMeNot, where you'll find deals like the Wyndham New Yorker Hotel in Manhattan for $200 a night versus the typical $499; 48% savings per night at the Sonesta Fort Lauderdale Beach hotel; a room at the Hilton San Diego Bayfront for $99 a night (savings of $165); or $40 off $75 at Airbnb using this coupon.
What about that Thanksgiving turkey?
Taking on the role of head chef for Thanksgiving? You can save on the meal via money-saving grocery apps like Ibotta, Checkout 51 and SavingStar. You can also cut costs by asking friends and family to bring side dishes, sticking to tried-and-true basics or using the same ingredients in several dishes.
Of course, beyond a traditional family meal on Thanksgiving Day, you may be searching for cheap eats — especially if you're partaking in Black Friday shopping or are away from home over the holiday weekend. One way to maximize your dining budget is by packing snacks or opting for late lunches over often-pricier dinner menus. If you're traveling, Smarter Traveler recommends grabbing food from local grocery stores, reading local food blogs to find the best (and usually cheapest) chow in town and perhaps trying fare from a food truck or local street vendor.
Also, don't forget to use apps like Yelp to your advantage, which you can use to find deals and special check-in offers at restaurants near you.
Although Thanksgiving is only one day, keep in mind that Christmas is just around the corner. So, if you plan to travel again, you may want to book now instead of waiting.
Sign up for the Payoff — your weekly crash course on how to live your best financial life.