Who's sending anti-Asian hate mail in New Jersey? Hate-group watchdogs say this is a new one.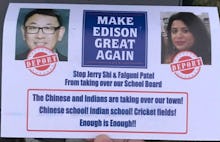 Hate-group watchdogs were somewhat perplexed on Thursday when reports of anti-Asian mailers in Edison, New Jersey, made national headlines.
Local school board candidates Falguni Patel and Jerry Shi were the subjects of the xenophobic mail that hit residents' mailboxes Wednesday in the town of just under 100,000 people, which is situated about 35 miles southeast of New York City.
The incumbent and aspiring public servants' headshot images appear side-by-side on the paper postcards, which called for both of them to be deported and evoked President Donald Trump's famous campaign slogan in asking locals to "Make Edison Great Again."
"Stop Jerry Shi and Falguni Patel from taking over our school board," the post cards read. "The Chinese and Indians are taking over our town! Chinese school! Indian school! Cricket fields! Enough is enough!"
The bigoted messaging appears to take issue with Edison's relatively large Asian population, which has grown by more than 61% in the last 17 years, going from 29.3% in 2000, to 47.6% in 2016, according to the U.S. Census Bureau.
Still, Southern Poverty Law Center intelligence director Heidi Beirich said in a phone interview Friday afternoon that Asians "are not a common target" for hate campaigns. "It's not that they never come up, especially in the anti-immigrant world, but most hate campaigns are targeting black people, Muslims, and Jews," she said.
Both Shi and Patel have denounced the hateful mailers.
Patel told New Jersey's 101.5 radio station on Wednesday that she was "disgusted," by the postcards.
"I was born and raised in New Jersey," she said. "To see the word 'deport' on my picture — where are you going to deport me to? Really, it's just outrageous."
Who sent the hate mail?
On Friday, both the SPLC and the Anti Defamation League said that it's uncommon for hate groups to send out a mailer without putting their name on it.
"That's why we are unsure that it's a hate group," ADL spokesman Todd Gutnick said via email. "Could be anyone."
There are 15 known hate groups in the Garden State, where white nationalist factions like the Ku Klux Klan have used flyers to recruit more members since Trump launched his anti-globalist White House bid.
In February, Klan leaflets were circulated in Cinnaminson and Moorestown Township, which are both about an hour southwest of Edison.
Those flyers, however, had the Klan's name printed on them, unlike Edison's mailings, according to the SPLC.
"This is not the normal thing for hate groups to do," Beirich said. "I certainly haven't seen anything like this with school board candidates."
New Jersey 101.5 radio host Bill Spadea has suggested another motive may be at play.
"Possible it's from the other side to make [Trump supporters] look bad," the conservative pundit tweeted on Thursday.
His claim makes some sense.
Edison is in the final throws of a heated mayoral election. The staunchly Democratic township hasn't elected a Republican mayor since 1993.
In a statement emailed on Friday, incumbent mayor Thomas Lankey blamed his Republican opponent Keith Hahn for the racist mailings.
Hahn, a local police officer, used to be the chair of Edison's Democratic party. He joined the GOP to run for mayor in August after being voted out of his Democratic leadership position in June and has been in hot water with Edison Dems since taking a picture with Trump back in August 2015.
"This despicable mailer, from an unidentified source, contains the Trump-Republican sentiments that Edison's Republican mayoral challenger and some of his supporters have chosen to embrace," Lankey wrote in an email to Mic. "This mailer appears to be an act of desperation meant to misdirect and confuse voters."
Hahn denied having anything to do with the racist mailers during a Thursday radio interview with Spadea, suggesting a local progressive activist group called People's Organizing for Progress may have created the flyers to try and drum up anti-racist sentiment right before election day on Tuesday.
"They've been putting stuff out about me and other board of ed candidates for the past two weeks," Hahn told Spadea, adding that his campaign recently filed a lawsuit against POP and traced back one of the mailings the group allegedly sent out to a public relations firm connected with mayor Lankey's campaign.
"I'm not saying it's [Mayor Lankey's communication team] that's responsible for this, but I think it's POP that's behind this flyer," he added.
Mic reached out to several POP members on Facebook, but none of them replied.
Middlesex county prosecutor Andrew Carey says multiple law enforcement agencies are investigating the source of the racist mailers.
"Our detectives, along with those from the Edison Police Department and other agencies, are examining the facts surrounding the mailing," the prosecutor wrote in an emailed statement. "It has yet to be determined whether or not a chargeable bias or other crime has been committed."