How do TJ Maxx and Marshalls sell designer clothes so cheap? 5 hacks to save money on fancy duds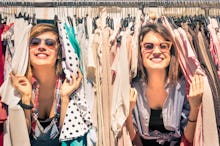 Looking for a hot holiday outfit but don't want to drop major coin on something you'll wear only once? While you have many ways to avoid paying full price on designer clothing — more on that below — there are important cautions to keep in mind as you browse fancy duds on deep discount. First step: Understand how the system works.
Two popular shopping destinations for designer bargain hunters are T.J. Maxx and Marshalls, where shoppers can save anywhere from 20% to 60% off regular retail prices. That may seem like a "too good to be true" scenario, but there's a method to this discount madness.
These so-called "off-price" retailers can sell clothes for less than traditional retailers like Macy's or Saks because they actually pay less for the goods upfront. A number of strategies make it possible — including buying clothes off season, buying sizes other retailers don't want, and not requiring a common practice known as a "buyback clause," in which retailers require designers to buy back clothing that doesn't sell. Eliminating this requirement results in a lower upfront cost, and a portion of that savings gets passed to consumers.
As a spokesperson for T.J. Maxx and Marshalls (owned by the same parent company) explained in an email, "We take advantage of a wide variety of opportunities, which can include department store cancellations, a manufacturer making up too much product or a closeout deal when a vendor wants to clear merchandise at the end of the season."
It's all about taking advantage of pricing inefficiencies: "When designers produce an excess of inventory [beyond what] full-price stores are able to sell, T.J. Maxx and Marshalls swoop in to pick up that surplus at a deep discount to then resell at lower prices," Doug Baldasare, CEO of phone charging station company ChargeItSpot added in an email interview.
Outlets, on the other hand, are basically retailer dumping grounds for out-of-season, damaged or made-for-factory-apparel. Shoppers might not realize that at least some portion of clothing at outlets is made more cheaply and specifically for the outlet — "kind of a knockoff of itself," as BuzzFeed reported in 2014. While some items at outlets may have originally been offered at the regular retail store, those comprise only a fraction: At Nordstrom Rack, for example, only about 20% of its inventory comes from Nordstrom stores or its website; the rest is bought directly for the outlet.
To really find the good stuff, head for the sale racks in back. "The real deals are at department store outlets in the area where they have one-off clearance merchandise sent from the store," Michelle Madhok, an online shopping expert and founder of deals site shefinds.com, said in an email interview. "You'll have to hunt, but amazing deals can be found."
Here are five other ways to look sharp — while saving money on genuine high-end merchandise.
1. Rent designer duds
Have an extra special holiday party — or three — coming up, but don't want to drop major cash for each one? Clothing rental can be an economical answer for those who want to wear designer threads without the designer prices: especially if you have multiple events to attend in a short period of time.
Instead of dropping hundreds of dollars on a single outfit or item, you can pay a fixed monthly fee to one of the many apparel rental companies such as Rent the Runway, The Mr. Collection or Gwynnie Bee and receive several pieces per month for that price. For instance, Rent the Runway's prices range from $30 a month to $159 a month, while the Mr. Collection for men starts at $49 a month.
Need shoes or a handbag to go with that hot new outfit? Sites like Eternal Styles charge an annual membership fee ($15) then let you rent shoes worth, say, more than $1,000, for about $150 a week. Style Lend, on the other hand, gets its inventory from people who rent out their own shoes and handbags. A pink Bulgari shoulder bag worth $2,100 currently rents for $210 for a week.
Now, does the idea of paying hundreds of dollars to rent clothes chafe your frugal instincts? You might consider instead shopping the clearance section of your favorite clothing rental company: Shoppers can save up to 75% off retail price, for example, by purchasing items from Rent the Runway.
2. Catch flash sales
Flash sale websites like Gilt, Zulily and HauteLook let shoppers find items that are discounted for a short time, typically a few days or less. Customers can score a deal because the designer bulk ships items to the flash sale provider and saves money by not having to process and ship to the individual, Money Crashers reported. The savings is then passed along to the customer.
One drawback of flash sales is they only offer items for a short period of time, so it can be hit or miss if you are looking for something specific. To get in on the sales, you'll need to get on a site's email lists or follow them on social media. Here's a longer list of sites where you can find these deals.
3. Buy off-season to save
Some items are discounted during specific months: You can get a good deal on winter clothing in February, for example, or on shorts and summer gear in August, the Balance reported.
If what you need now isn't really on sale this season, search for the item on a site like ShopStyle and set up sale alerts, Madhok advised: "That way when the price drops you'll be the first to know and can score the item at a discount." 
Remember it is always "buyer beware" when shopping for a deal on designer clothing: "Watch out for counterfeits; make sure you're using a place that authenticates the merchandise — especially important for jewelry or bags — like Portero or the Real Real," Madhok said.
4. Crawl online discount sites
Some online providers deliver some pretty amazing deals if you know where to shop. Sites like RueLaLa tout 70% savings on brands, 6pm has name-brand items discounted up to 70% off and Century 21 seriously slashes prices on everything from clothing to housewares.
Also, Madhok suggested checking out online resale: "Sites like the Real Real are selling designer goods at 70% off and they are either new or in nearly new condition. ... T.J. Maxx has a Runway department that features high-end designers at up to 70% off: You can check it out in store on on tjmaxx.com."
5. Use coupons to lower prices
Heading to the store? First take a quick look at savings sites like Offers or RetailMeNot to search for coupons. Major name-brand retailers offer in-store and online offers for places like Nordstrom Rack, J. Peterman, Bloomingdale's and more. You might be pleasantly surprised.
Don't forget about cash back opportunities, too: "Take advantage of websites like Ebates or Top Cash Back ... [which] allow you to earn up to 20% cash back on online purchases, on top of retailer discounts," Madhok said. These sites offer the equivalent of free money if you choose deals carefully.
Finally, remember: Always use a credit card with purchase protection, so you can get a refund on the item in case it's not up to snuff. For many reasons, avoid shopping with your debit card if you can.
Sign up for the Payoff — your weekly crash course on how to live your best financial life.