These are the 16 best anti-Trump songs from the past year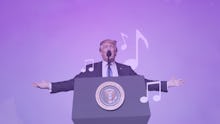 The 2016 presidential race inspired more than a few protest songs warning against a future we couldn't allow to happen. (YG's "FDT" and A Tribe Called Quest's "We the People…" are two of the most prominent examples.) But now that Donald Trump is actually the president and he's taking aim at the rights of various minority groups, there's been a flood of protest songs. That flood shows no signs of letting up any time soon.
Since the first anniversary of the 2016 election is upon us, we've combed over many anti-Trump songs that have been released in the past year and rounded up the 16 best, presented here and organized alphabetically by artist. These musicians have made explicit through song their intolerance for Trump, his bigoted rhetoric and his discriminatory policies. There's plenty to resist nowadays; here are some songs to soundtrack the fight.
Algiers, "Death March"
This fire-and-brimstone gospel-punk outfit spares no syllables on the grimmest track from its excellent sophomore album, The Underside of Power. What to do with the "crypto-fascist contagion" running the show? Here's a "manufactured suggestion" from Algiers frontman Franklin James Fisher: "Wag the dog and then drown him."
Dawn Oberg, "Nothing Rhymes With Orange"
This San Francisco-based singer-songwriter, who melds Aimee Mann with New Orleans piano, made waves in 2016 with "It's 12:01," an enough-already condemnation of police brutality. This year, she topped that with an entire three-song EP making mincemeat of Trump and his frightening faithful. The title track begins and Oberg's quickly shaking her head, muttering, "I never should've had to write this song," before a chorus that states clearly, "In any office he's still just an orange tweeting twat." She saves a very special invite for the denouement: "He cannot grab my snatch but he can bite my bloody rag."
Eminem, "The Storm"
The most-talked-about piece of protest music in 2017 came from none other than Slim Shady. Eminem's dead-serious freestyle from the BET awards went viral and was praised by even his most ardent critics for drawing a line in the sand with any Trump followers within his fanbase. "Racism's the only thing he's fantastic for," Em sneers, referencing Trump. It was parodied a whole bunch, but this unexpected cypher performance was a show of strength.
Fiona Apple and Michael Whalen, "Tiny Hands"
The critically acclaimed singer-songwriter-pianist, who famously told the audience at the 1997 MTV Video Music Awards that "This world is bullshit," recorded this simple-enough protest song with a simple-enough message on her phone. "We don't want your tiny hands/ Anywhere near our underpants," Apple chants for one minute, over some rudimentary beat production and samples from the infamous Access Hollywood tape. It became the unofficial anthem of the Women's March on Jan. 21, having been released on SoundCloud just a few days earlier.
Joey Bada$$, "Land of the Free"
One of the biggest cult rappers in America is also one of the most earnest, and on this sobering 2017 single, Joey Bada$$ resists in the most plainspoken terms, almost calmer than actually necessary: "Sorry, America, but I will not be your soldier." That line's soon followed by an explanation — "Donald Trump is not equipped to take this country over."
Kendrick Lamar, "The Heart, Pt. 4"
No one on the pop charts is realer than Kung Fu Kenny right now, and the latest entry of his "Heart" freestyle series is the usual scorched-earth meteorite, this time calling out the president and promising Hell with the couplet, "Donald Trump is a chump/ Know how we feel, punk?/ Tell 'em that God comin'." Preach, K-Dot.
L7, "Dispatch from Mar-a-Lago"
The grunge goddesses return for their first new tune since 1999, a sardonic and brash fanfic about placing Trump's favorite country club under siege. This territory shouldn't surprise any old fans of "Wargasm" or "Shitlist." And who could resist a revenge fantasy couplet like "S.O.S. from the golden throne/ Mogul's in deep shit, he's all alone"?
Love Always, "We Won't Go Back"
Kathy Foster, normally known as the bassist of Portland snot-rock trio the Thermals, steamrolls over anything her main outfit has done in a decade with this no-nonsense opener to the Battle Hymns benefit album for Planned Parenthood and the ACLU. The opening lines ("They like to tell us what our bodies do/ They like to show us how to be used/ Then they try to redefine what it means to lose") tell the grim truth about how much the last election cost women, before the feedback-strewn chorus turns it into a fight song. "We Won't Go Back" is one of the most sobering and invigorating tracks of 2017, and buying it contributes to a good cause.
Margo Price, "All American Made"
This Nashville upstart ramps up the outspoken politics on her second full-length album, All American Made, with tunes like "Pay Gap" that leave little up to interpretation. It's the title track, though, that draws a through-line from how "Reagan was selling weapons to the leaders of Iran" to the monstrous predicament we're in now. "I wonder if the president gets much sleep at night/ And if the folks on welfare are making it alright," Price sings. But there's little doubt of the answer to either.
The New Pornographers, "High Ticket Attractions"
Carl Newman and company deliberately ratcheted up their volume for this paranoid chugger, which perfectly sums up a liberal Canadian's disbelief at watching his southern brothers go up in flames. The chorus is positively apocalyptic, imagining blocked travel routes out of the U.S. and imploring us to get out now, even if it means only packing a small suitcase.
Oddisee feat. Toine, "NNGE"
"I'm from black America, this is just another year," announces Oddisee, one of the last alt-rappers left standing. Here, he presents a helpful guide for those "new to disrespect by your elected puppeteers," a.k.a. white people who this past November finally realized just how far behind America really is. Assisted by guest rapper Toine, Oddisee warns against apathy and insists that people not give up hope. "NNGE" may be a rousing inspiration for those having trouble staying optimistic, but that doesn't mean it coddles its audience, either: "If I'm preaching to the choir/ Know they're bound to get a lecture."
Os Mutantes, "Black and Gray"
The most internationally influential Brazilian rock band in history, and a chief exponent of the 1960s psychedelic Tropicália movement, "the mutants" reunited in 2006 and have been active ever since. Their newest release is a gorgeous ballad that indicts "crazy Trump" and begs for his family to intervene and save the world: "Oh Melania, save me/ Oh Ivanka, don't break my heart." In reference to the first lady, Mutantes co-founder Sérgio Dias recently told Billboard, "I've never seen Trump extend a slight tenderness or affection to this poor immigrant. ... Does he have her behind a wall also?"
Roger Waters, "Is This the Life We Really Want?"
Pink Floyd leader (and fervent political activist) Roger Waters recently teamed up with famed Radiohead producer Nigel Godrich for his first solo album in 25 years. And part of what they cooked up is this creeping title track, the subject of which couldn't be more blatant if it began with samples of Trump speaking… oh wait, it does. In one of his most political diatribes ever, Waters links democracy's obstacles to the culture of fear, and sings, "It's not enough that we succeed/ We still need others to fail." He goes on to detail a very familiar dystopia, with journalists in jail and people of color getting murdered reaching for their keys.
Tim Heidecker, "Trump Talkin' Nukes"
In which the career goofball behind Tim and Eric Awesome Show, Great Job! contributes one of the most startling and affecting tracks to the anti-Trump Our First 100 Days benefit album: Rather than some kind of absurdist sketch, Heidecker penned a Father John Misty-esque piano ballad that tracks wartime history, from how his father had to hide under desks due to the Cold War's nuclear threat, to the rise of modern suicide bombers. The final line is chilling: "Crazy how it only takes a maniac." Trump's name never appears in the song beyond the title, but it's not hard to fill in the blanks.
Wale, "Smile"
D.C. rapper Wale has shed multiple guises in his heavily Seinfeld-influenced curio of a rap career. But burning political passion was at the heart of his 2008 heartfelt racism meditation "The Kramer," and he stokes the fire of his frustration again here. "Smile" calls out the president as a "possible bigot slash misogynist" and expresses infuriation that his sister's ballot in another city couldn't do anything to stop the worst -case scenario. "America don't want me," he laments, looking for another reason to smile. He's not alone.
Willie Nelson, "Delete and Fast Forward"
Willie Nelson plays a fake-news doomsday prophet on this world-weary tune from his (Lord almighty) 72nd studio album, God's Problem Child. First he reports, "The elections are over and nobody won," then he warns, "You think it's all ending, but it's just settin' in." Finally, he hangs his head in shame: "We had a chance to be brilliant and we blew it again." You know we're in trying times when the tech lingo in this song's title is used not by, say, Devo or Nine Inch Nails, but an 84-year-old journeyman who's legendary in one of the oldest American genres.