Legal experts have faith in special prosecutors despite verdict for officer who shot Delrawn Small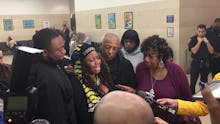 Police reform advocates haven't lost confidence in New York's new system for prosecuting officers who kill unarmed civilians.
The state attorney general's office is now 0-1 after failing to convince a Brooklyn, New York, jury to convict Officer Wayne Isaacs in the 2016 fatal shooting of Delrawn Small.
"This case shows how hard it is to get a jury to convict even after overcoming the hurdles of investigation and prosecution," NAACP Criminal Justice Programs senior director Ngozi Ndulue wrote in an emailed statement on Tuesday. "We need to continue to press for police accountability through the courts, but we also must recognize that getting a conviction is an uphill battle."
Surveillance video that captured the shooting, which was presented at trial, showed Small, who was unarmed, being shot by Isaacs within seconds of approaching the off-duty officer's vehicle at a red light on July 4, 2016. A witness said Small thought Isaacs had cut him off in traffic a few blocks away.
The Brooklyn jury that acquitted Isaacs of second-degree murder and manslaughter charges contained five African-Americans from the same ethnically diverse county that convicted former NYPD officer Peter Liang of manslaughter in the November 2014 shooting death of Akai Gurley.
(New York State Supreme Court Justice Danny Chun later reduced Liang's conviction from manslaughter to negligent homicide, and Liang never went to prison as a result.)
The prosecutor assigned to Isaacs' case, Assistant Attorney General Joshua Gradinger, works for state Attorney General Eric Schneiderman's office, not the city of New York.
That arrangement was commissioned by Gov. Andrew Cuomo's 2015 executive order, a first-of-its-kind arrangement that Cuomo said was a "major step forward" then.
After losing its first related case, the governor's office said its special prosecutor system was about more than convicting police officers who unjustly kill people.
"The special prosecutor is a critical tool to ensure that, in the public's view, any investigation into a police-involved civilian death is transparent and independent," Abbey Fashouer, a spokeswoman for the governor, said via email. "These cases are investigated and prosecuted through the judicial system and we must allow justice to run its course."
Cuomo ordered the state attorney general's office to selectively prosecute police who kill civilians after former Staten Island prosecutor Dan Donovan was accused of deliberately failing to secure an indictment in December 2014 against the officer who put Eric Garner in a chokehold on video before his death.
Five months later, Staten Island's conservative and predominately white population, most of which opposed indicting the officer, elected Donovan to U.S. Congress in a special election and then re-elected him to a full term in November 2016.
When it comes to civilian suspects, federal prosecutors secure grand jury indictments almost 100% of the time. Yet in high-profile cases involving police officers who kill unarmed civilians, indictments have been harder to come by.
Criminal trial convictions are even rarer.
"Local prosecutors work with police officers day in and day out," New York Civil Liberties Union associate legal director Chris Dunn said during a phone interview. "When you're working with people every day that you might actually have to prosecute, it creates an almost impossible situation for the prosecutor. You're much less likely to pursue that prosecution because it will undermine your working relationship with people you rely upon."
Small's brother Victor Dempsey told reporters on Monday that he doesn't blame state prosecutors for failing to convict Isaacs. He blames the jury.
"The A.G.'s office did their job," Dempsey said outside the courtroom. "The jury did not listen to them. The jury decided to ignore how they presented the case. The jury decided to ignore every single piece of the facts. The evidence spoke for itself."
Despite the outcome in Isaacs' case, Andrew Cohen, senior editor at the Marshall Project, said the special prosecutor system New York has is a rare step in the right direction when it comes to holding police who needlessly kill people accountable for their actions.
"New York was trying to be progressive in doing this," Cohen said on Tuesday. "I understand why the family is disappointed and angry, but until you get to talk to those jurors, I think it's hard to understand why this happened the way it did."