Mic Wakeup: How domestic violence and bad paperwork can lead to mass shootings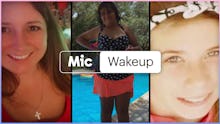 It's Wednesday, Nov. 8. Here are three things you need to read.
These are the victims of Sunday's mass shooting
On Sunday at least 26 people were senselessly killed when a gunman entered the First Baptist Church in Sutherland Springs, Texas, and opened fire.
Though authorities have yet to release the names of the victims CNN reported that eight of them were members of the same family.
Other details about the victims have begun to emerge thanks to family and friends sharing names and details about their loved ones, like Joann Ward and her daughters, 5-year-old Brooke Ward and 7-year-old Emily Garza. Miraculously, Ward's 5-year-old son, Ryland Ward, survived the shooting after being shot five times. He is recovering at the University Hospital in San Antonio.
And 14-year-old Annabelle Pomeroy, the youngest daughter of First Baptist Church pastor Frank Pomeroy. Frank, who was traveling on Sunday, told ABC News his daughter was "one very beautiful, special child."
Read the full list of victims here.
America is largely ignoring the link between domestic violence and mass shootings
Devin Patrick Kelley had one familiar thing in common with many mass shooters: A history of domestic violence.
In 2012, Kelley, a member of the Air Force, was court-martialed and convicted of assaulting his then-wife and child. After his hearing he was sentenced to a year in jail and he received a "bad conduct" discharge from the military, the San Antonio Current reported.
While these actions are horrific in their own right they also mark a dangerous warning sign for future violence.
As Everytown Center for Gun Safety found, 16% of mass shooting perpetrators were previously charged with domestic violence. Moreover, Everytown noted, at least 54% of mass shootings involve the perpetrator targeting and shooting "a current or former intimate partner or family member."
"We already know that there is a very close homicide connection between domestic violence and access to guns, and then you add in the connection between mass murders, and I can't understand why lawmakers and law enforcement aren't taking this more seriously," Kim Gandy, president and CEO of the National Network to End Domestic Violence, said in an interview with Mic.
So how can people stop this? By talking about the connection between domestic violence and gun murders over and over and over again.
"I truly believe that we have a society that has not addressed domestic violence in a way that can prevent this," Ruth Glenn, executive director of the National Coalition Against Domestic Violence said in an interview with Mic. "With the key word being prevention and really addressing what the root causes are, whether that be studies, whether that be laws or whether that be just best practices across the country that help us understand and prevent this from happening."
Here's how a loophole helped three mass shooters kill 67 people
The federal government maintains a list of 10 reasons why someone living in the United States would be denied the sale of a gun. Those reasons include one being an unlawful user of or addicted to any controlled substance; being committed to any mental institution; being discharged from the Armed Forces under dishonorable conditions and being convicted of a misdemeanor crime of domestic violence.
However, in three infamous cases, including Sunday's Texas shooter Devin Patrick Kelley, Charleston's Emanuel AME church shooter Dylann Roof and Virginia Tech shooter Seung-Hui Cho, the perpetrator was able to purchase a gun legally despite prior convictions, prior drug charges and being committed to a psychiatric facility, respectively.
"If you go to a licensed gun dealer to make a gun purchase, they can contact the [National Instant Criminal Background Check System] electronically and normally, for a typical person, that information is cleared within a few minutes," Robert Spitzer, author of The Right to Bear Arms, professor and gun control expert, explained to Mic. "But the window of time for completing the check is 72 hours."
As Spitzer added, if 72 hours pass and an examiner is unable to confirm guilt or innocence, the seller can legally use their own discretion to decide if they want to sell the person a gun.
"There has been an examination of the cases of people where no information came back after 72 hours. And it turns out a great many of them were people who in fact do have problems in their background that should have disqualified them," Spitzer said. "So that's a loophole, that's a problem in the system for sure."
How can America change this? One idea, according to Spitzer, is to simply flip the default and make it that one cannot purchase a gun until they are fully cleared. The other, according to Adam Winkler, a constitutional law professor at UCLA, is to impose universal background checks, like the one in California.
"You can't sell a gun to someone without going to a gun store and running a background check," Winkler explained of the California law. "And we've seen other states adopt similar laws. The state of Washington recently has adopted universal background checks."