Road Trip Diaries: 5 quirky-cool stops on the drive from Los Angeles to Palm Springs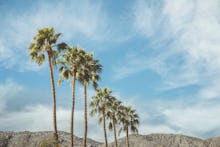 With its sun-baked mountains, crystalline pools, eccentric modernism and midcentury architecture, Palm Springs has long been a desert oasis from the busyness of Los Angeles. And the route between the two Southern California cities is perfect road trip country, littered with quirky mile markers — like the towering, 100-ton Cabazon Dinosaurs, the massive wind farm that catches Pacific winds howling through San Gorgonio Pass, the Palm Springs Aerial Tramway, an outdoor junk art museum, date shacks at Hadley's Date Farm and the unusual plants and rocks of Joshua Tree. Once you arrive in Palm Springs, you'll find a stylish getaway that seems to exist apart from time and space. It's the kind of magical place where you can wake up in a 1960s-vintage shabby-chic hotel room, hike through a dusty slot canyon, embark on a whimsical architectural tour by bike, slurp a craft cocktail poolside and then eat refined fare before hitting up an all-night DJ dance party.
1. Huckleberry
1014 Wilshire Boulevard, Santa Monica, California 90401
Huckleberry began in 2009 as a place to showcase Zoe Nathan's pastry and baking talents, and has since evolved into a friendly full-service bakery and café. It serves organic, locally sourced breakfast foods all day — including tostadas, egg benedicts, sandwiches and housemade granola — and is one of L.A.'s favorite places to kick off the day. The amazing baked goods, like scones, biscuits, muffins, cookies and tarts, and locally roasted Caffe Luxxe coffee are great for a pick-me-up. It's always packed, so grab something to go, and hit the highway.
2. Noah Purifoy Desert Art Museum of Assemblage Art
63030 Blair Lane, Joshua Tree, California 9225
One of America's greatest radical junk artists, Noah Purifoy was also an activist — his earliest sculpture was made of charred debris from the 1965 Watts riots. Purifoy moved out to the Mojave Desert for his final 15 years, where he created large-scale sculptures that eventually sprawled across 10 acres. Constructed entirely from junked materials, this world he created is one of the nation's great art wonders and totally characteristic of the pioneering spirit and almost whimsical nature of the California desert. Free admission
3. Joshua Tree National Park
74485 National Park Drive, Twentynine Palms, California 92277
Explorer John C. Fremont famously derided the Seussian Joshua trees as "the most repulsive tree in the vegetable kingdom," but these grizzled-looking plants that reach up to 40 feet tall can be as beautiful as they are eccentric. Decide for yourself when you explore Joshua Tree, a national park that includes the ruins of Bill and Frances Keys' hardscrabble Desert Queen Ranch. Its oddball history is as present and palpable as the hordes of rock climbers scrambling up wild rock formations.
4. Workshop Kitchen + Bar
800 N. Palm Canyon Drive, Palm Springs, California 92262
Even in a design-driven city like Palm Springs, Workshop stands out. The all-concrete interior has a 35-foot-long communal table lined on either side by high-walled booths, all beneath a cathedral ceiling, earning it the 2015 James Beard Award for best restaurant design. Its fresh, farm-to-table fare in the middle of the desert should be equally revered. The majority of the inventive market-driven menu, which features decadent duck-fat fries, a daily wood-fired pizza special and perfectly cooked steaks and porkchops, is sourced from local farms within an hour of town.
5. Ace Hotel & Swim Club
701 E. Palm Canyon Drive, Palm Springs, California 92264
Housed in a renovated 1960s Howard Johnson, the Ace remains one of the trendiest spots to stay (and play) in town. Soak up the desert sun and have some fun at one of two saltwater pools — the rollicking Swim Club Pool, where popular DJs spin tracks all weekend, or the more laidback Commune Pool, which is surrounded by fire pits — before retiring to a retro room, complete with vinyl records and a tuned, ready-to-play acoustic guitar. Room from $179