Mic Wakeup: Here are two dream jobs and one major tip on how to land them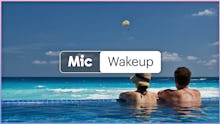 It's Thursday, Nov. 9. Here are three stories you need to read.
Meet the 20-somethings paid to try drugs
Nellie Benner, Rens Polman and Bastiaan Rosman don't have your typical 9-5. In fact, describing what these 20-somethings from the Netherlands actually do is kind of difficult.
To put it bluntly, the three YouTubers are paid to do drugs like ecstasy, speed, LSD and salvia and then tell you all about how it makes them feel for a channel called Drugslab. But wait, we aren't even at the weird part yet, because as it turns out the entire thing is financed by the Dutch government through its public broadcaster BNNVARA.
"We are trying to make videos that are easy to watch, with entertainment but also with a lot of serious notes," Benner said in an email interview with Mic. "For young people who want to experiment, but also for parents who want to know what their children may try."
The purpose of their programing is to educate on harm reduction, according to the team, which in the end may be the best thing for young people to see because, illegal or not, people are going to do drugs.
"The bottom line is people use drugs and they have for all of existence," Vilmarie Fraguada Narloch, drug education manager at Students for Sensible Drug Policy, said. "It's nothing new. So really the idea is safety — if they're going to choose to use something, that they have the proper knowledge of what they are taking, how to take it and how to do it in the safest way possible."
Here's how you can get paid to live in paradise
Are you looking to escape it all and live in a Mexican paradise? Well, now's your chance as Cancun.com is looking for someone to fill the role of "Cancun experience officer."
The job, according to a press release, includes traveling around the tourist destination and documenting everything on social media. Other duties listed include "sleeping in luxurious beds" and "mingling with locals and tourists at your VIP table in the hottest clubs."
Oh, and the best part is you actually get paid to live in luxury, handsomely in fact, as the person who will fill this role will be paid $10,000 a month for the six-month contract, in addition to having all room and activity expenses covered by Cancun.com.
To apply you must be 18 years of age or older and speak Spanish. The winner of this dream job will be named Jan. 1, 2018.
Here's how to answer (and nail) the hardest question at every interview
We get it, interviewing for a new job is nerve-racking, but the best way to squash those butterflies is to be prepared for every question HR may throw your way, including the most dreaded question of all — why you?
According to a survey of 570 undergraduates and recent college grads by career site WayUp, 41% of current undergraduates and 35% of recent grads said the question they fear the most is, "Out of all the other candidates, why should we hire you?"
So how should you answer? By providing proof you're the right fit and showing you did your homework about what the company's goals are.
"You need to be convincing and honest, but also have your talking points ready to go," Vicki Salemi, a career expert at Monster, said.
The key, career expert Heather Huhman said, is to "know your unique value proposition," and "If you don't know it, you're never going to be able to sell yourself to an employer."
Not sure where to start? Check out a couple of awesome answers to this tough question here.