Trump supporters crash "Scream at the Sky" event on election anniversary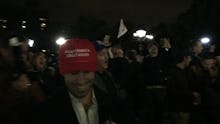 NEW YORK CITY — It was supposed to be a moment of catharsis for an anticipated 2,800 "liberal snowflakes" at Washington Square Park in Manhattan on the one year anniversary of the president's shocking 2016 White House win.
Instead the "scream helplessly at the sky" gathering was ironically hijacked by a handful of MAGA hat-wearing Trump supporters who came to revel in the misery of those distressed over Trump's presidency.
"They're in pain and that's a good thing," Trump supporter Michael Darr, 32, said after making his way into the center of the crowd.
"No Trump! No KKK! No fascist USA!" the anti-Trumpers chanted as they surrounded and accosted Darr, who grinned as he poured an entire canister of Morton Salt on the ground, prompting cheers from his fellow Trump acolytes.
"I enjoy seeing this," Darr added. "I'm celebrating one year of the greatest president in my lifetime."
A brief scuffle broke out later in the evening after another Trump supporter allegedly stole a protest sign from an anti-Trump demonstrator.
"This is socialism!" the thief shouted as he tried to evade anti-Trumpers attempting to take the sign back.
Several punches were thrown before police separated the pro and anti-Trump groups without arresting anyone.
"Trump lovers being idiots as usual," Refuse Fascism activist Jay Walker said after witnessing the melee. "He took an old lady's sign and we had to get it back."
Only about 100 people actually went to the event, which brought back painful memories for many who went to vent, unconsoled by news of Democrats winning key races across the country on Tuesday.
Film school producer David Ward stood staring into the park's huge water fountain before looking skyward and bellowing into the night.
One year prior, Ward, who lives in East Midtown, had just broken up with his girlfriend of four years before being forced into a new four year relationship with the current commander in chief.
Ward said after Trump won, he visited Trump Tower near UN headquarters in east Midtown and peed on a gold sign etched with the president's name.
"I was so miserable in the days before the election," Ward said. "After Trump won, suddenly my misery was felt by the whole country. It was kind of nice."
NYU student Juliana Durrant recalled going to bed early a year ago thinking Hillary Clinton had won the election. When she woke up and turned on the news the next morning, she thought Trump winning was a joke.
"I honestly started to tear up," Durrant said. "I'm still in that Twilight Zone. I'm still surprised he's there signing and making decisions and everything."
Even those who supported Trump who went to the screaming event to troll the anti-Trumpers ultimately expressed disappointment in how he's performed as commander in chief, focusing more on how much they hate Trump's detractors and delight in their angst than on what the president has or hasn't done.
"I'm anti-war and I was vehemently opposed to the air strike on Syria," Darr later confessed, adding that as a member of Trump's base he can influence the president to avoid war with North Korea.
"One of the perks is we have a little bit more leverage," he said.
Trump supporter "Gavi," said he didn't like Hillary or Trump, but that Trump was the lesser of two evils even though his administration hasn't lived up to expectations.
"I think it's going poorly," Gavi said. "I think he's made some horrible cabinet picks [who] don't actually support his agenda and it's a real problem."
"Trump was supposed to be... the anti-establishment guy and I really want that," he added.