Trixie and Katya had to perform out of drag on their Viceland show. It wasn't easy.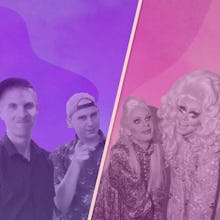 For drag performers, the sky-high wigs, couture gowns and body glitter are as much a part of their outsized performances as their quick wits and sharp tongues.
But Trixie Mattel and Katya Zamolodchikova — two drag superstars who gained widespread recognition as contestants on RuPaul's Drag Race — had to practice performing on camera without all the dramatic costuming for their new show on Viceland, The Trixie & Katya Show.
The majority of their new comedy talk show is like a souped-up version of their long-running YouTube series UNHhhh, in which Trixie and Katya chat about random topics — like crying, drugs or the passage of time. They use these topics as jumping off points, taking comedic bits to the umpteenth degree. The YouTube episodes overwhelm with a frenetic, blink-and-you'll-miss-it editing style, jam-packing each episode's 10-minute runtime with a million visual gags.
But even though The Trixie & Katya Show preserves UNHhh's basic DNA, there's a new element that's decidedly more traditional: a man-on-the-street segment in which the two stars interview passersby on the streets of Los Angeles about random subjects. In one episode, for example, they ask strangers to hypothesize the mechanics of strangely titled sex acts — like the "Kentucky tractor pull" or "supermanning." In another, they ask people whether a medical condition — like "werewolf syndrome" or "sudoku seizure" — is real or something they made up. (For the record, they're both real.)
For this bit, though, they strip away the false eyelashes and swap their sparkling bodices for simple T-shirts, simply becoming plain ole' Brian and Brian.
So, should fans take Trixie & Katya's stripped-down segment to mean that they're thinking of branching outside the world of drag? It's not likely. In a recent interview with Mic, neither Brian seemed to think they'd be leaving those wigs behind for good anytime soon, despite calling drag a "disgusting" experience.
"I'm holding a microphone, looking at the person, and I'm telling them with my eyes that, 'This is can be over as fast as you can get it over.'" — Trixie Mattel
"It's kind of nice because the person we're interviewing is uncomfortable, and we're never out of drag, so we're actually super-uncomfortable [too]," Trixie said at Mic's offices in New York City. "I'm holding a microphone, looking at the person, and I'm telling them with my eyes that, 'This can be over as fast as you can get it over.'"
"And I also look like I'm dying of cancer, so it's fun," Katya added.
But while the two have sizzling comedic chemistry together, they quickly found out that making funnies with total strangers is no easy feat.
"Man-on-the-street is a lot of mining for diamonds," Trixie said.
"Oh, and they're fools gold only," Katya said. "Fools gold. You find little two chips and maybe like a poker chip from Las Vegas from 1967. The real good stuff is like these very, very, very sparse and specious — not to mention spurious — little moments that can yield a lot when you cut it down to nothing."
Essentially, the show's editors end up having to cut down the material they get to just a few small nuggets, hoping the best and brightest interactions they have will be enough to fill the segment's five-or-so-minutes. That is, if they can even convince people to talk with them at all.
"Let's be honest," Trixie added. "If you were walking down Hollywood Boulevard, and you saw a gay Forrest Gump and Mr. Burns, would you stop for us?"
Of course, this isn't the first time Trixie and Katya have presented themselves as Brian and Brian to the public. They each appeared out of drag extensively during the face-to-cam confessionals on their respective seasons of RuPaul's Drag Race — but being alone in a studio talking to a camera is much different than flexing your comedy muscles with total strangers.
And their drag personas are really about more than just inventive outfits and face-altering makeup. Despite her cartoonish contouring, Trixie said she uses these looks as a way to communicate a dedication to her audience.
"Something I've never related to in, like, contemporary comedy is that everybody now just wears, like, T-shirts and jeans," Trixie said. "I think in comedy of 50 years ago [there] was more showmanship, and was like gowns and suits and like —"
"Rita Rudner wore those vests," Katya interjected.
"Yeah," Trixie continued. "John Mulaney, for example, is a younger comic and he always wears a suit. I always thought that was, like, respect [for] your audience. When we come on your thumbnail on YouTube or on Viceland, aren't you like, 'Those bitches put on wigs for me. Yes, I do have a minute for you.'"
Katya joked that their drag also offers a kind of armor, a hand-waving distraction from the moments when they're not at the top of their game.
"There is a scientific measurable thing where the retina kind of attaches itself to the nasty," Katya said, gesturing to Trixie and herself. "And we bank on that, because we're only about 60% talented depending on how much food we've had."
"If we're gonna make you laugh," Trixie said, "isn't it more fun to laugh at us when we look great?"
The Trixie and Katya show premieres on Viceland Nov. 15. The first episode is currently available for free.
Nov. 14, 2017, 8:10 p.m. Eastern: This story has been updated.