Democrats' success in Virginia "would not have been possible" without this key group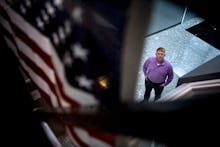 In August, Virginia Democrats polled Debra Rodman's suburban Richmond district to determine whether they should support her race.
The poll, which cost $3,800, found John O'Bannon, the 16-year Republican incumbent in Virginia's House of Delegates, with a 12 percentage point lead. Nearly half of voters said they'd support him. That was enough for the state party to spend no more than $3,800 in that race, said Noah Dion, Rodman's campaign manager.
"They said, you know what, we have a number of candidates we need to put money into," and Rodman wasn't one of them, Dion said in an interview. He doesn't blame Virginia Democrats for focusing on other races. But he says he knew O'Bannon, a "Trumpcare" supporter who voted to allow concealed carry for machine guns, could be defeated.
That's where Forward Majority came in.
The group invested at least $14,000 each in nine House of Delegates candidates in Virginia, according to data shared with Mic. Five of the candidates won with help from Forward Majority, a Democratic super PAC launched this year to help Democrats win back state legislatures. None of those were in the Democratic party's top tier or expected to flip on Tuesday night. Two of the races the group-backed candidates lost were by less than a percentage point. The group invested nearly $500,000 in Virginia House races overall.
A flurry of support from Democratic Party and progressive groups flowed to a core set of Democratic Virginia House candidates, including several in the Washington, D.C., suburbs. But 44% of all House endorsements from key progressive and Democratic groups, a Mic analysis found, came to seven races in one county.
That support was crucial to Democrats flipping five out of six GOP districts there blue. But it was not enough, on its own, to win the Virginia House.
From its launch over the summer, Forward Majority had a "go big or go home" mentality, committing to pouring money into races where conventional thinking guaranteed a Republican victory, said Vicky Hausman, the group's co-founder.
"Our results speak for themselves," Hausman said. "The reality is, we had an outsized effect in races that aren't getting attention."
On Tuesday night, Democrats flipped 15 seats held by the GOP in Virginia going into Election Day. Democrats in Virginia are two seats shy of an outright majority in the House; four races are in recount. Virginia Democrats agree the strategy of focusing beyond the top tier was critical to that success.
"It is hard to rank each of our amazing partners, but Forward Majority was certainly at the top of the list," Trent Armitage, executive director of the Virginia House democratic caucus, said in a statement to Mic. Armitage was too busy to talk on the phone because he's overseeing recounts in races Forward Majority helped make competitive.
"Their work took things off our plate and allowed us expand the map," he said. "Having the funds to put tough races into play is what allowed us to be so successful."
In races where Forward Majority was one of the top two outside contributors, the number of people who voted was driven a percentage point higher than it was in other competitive House races.
Statewide, the average increase of people voting in state legislative races was nine points since 2013. In districts focused on by Forward Majority, which were seen as tougher for Democrats, the increase was ten points.
Lee Carter, who beat the third-ranking House Republican by about 10 points in a race that turned into one of the night's biggest surprises, tweeted at Forward Majority saying, "This would not have been possible without you!"
Carter, a socialist, was abandoned by the state party after being told his positions were too progressive to win. Forward Majority contributed by far the most support to his campaign and kept it up after other support for Carter vanished.
The nearly $500,000 Forward Majority invested in Virginia House candidates and its operations this year was a prototype, Hausman said. Her goal now is to raise $12.5 million, 85% of which will be spent on state senate races in Florida, Pennsylvania, Ohio and Wisconsin next year.
The group hopes to win control of state senates in those states ahead of redistricting after the 2020 election. By 2020, Forward Majority hopes to have spent $100 million working to win control of the states.
"The risk is, going into 2018, not just that organizations will focus on the top tier [state legislative challengers] and say that's sufficient. People will turn to congressional and Senate races and stop thinking about state legislative races," Hausman said. "[But next year is] the last bite at the apple to break up those Senate majorities before redistricting in 2020 in some of the most gerrymandered states in the country. It's wholly insufficient to focus on a small set of challengers."