Alabama's GOP state auditor used the Bible to excuse child molestation allegations against Roy Moore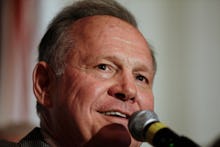 Roy Moore, the Republican nominee in Alabama's upcoming Senate special election, was accused on Thursday of molesting a 14-year-old girl and making advances on other teenage girls in the late 1970s and early 1980s.
Yet despite the bombshell allegations, Republicans in his state are already rushing to defend Moore — even using the Bible to excuse away his alleged behavior.
Alabama State Auditor Jim Ziegler told the Washington Examiner that the allegations against Moore are "much ado about nothing."
"There is nothing to see here," Ziegler told the Examiner of the allegations against Moore. "The allegations are that a man in his early 30s dated teenage girls. Even the Washington Post report says that he never had sexual intercourse with any of the girls and never attempted sexual intercourse."
Ziegler went on to say that the allegations weren't even that bad, since Moore was not accused of having intercourse with any of the children. (The main accuser, Leigh Corfman, said Moore undressed her, touched her over her bra and underwear, and then attempted to put her hand on his erect penis — even after he knew she was just 14 years old.)
And Ziegler invoked Jesus to defend Moore's alleged behavior with the three other teenage girls who said Moore pursued romantic relationships with them.
"Take Joseph and Mary. Mary was a teenager and Joseph was an adult carpenter. They became parents of Jesus," Ziegler told the Examiner.
Other Alabama Republicans found other ways to excuse Moore's alleged behavior.
Alabama Secretary of State John Merrill told Think Progress that the accusers might be lying.
"People make things up all the time. Do I think it's possible they made this up? I do," Merrill said.
To be sure, Senate Republicans have expressed dismay about Moore's allegations.
However they've qualified their calls for Moore to leave the race, saying he should only step aside if the allegations are proven.
The only Republican thus far to say Moore should unequivocally step aside is Sen. John McCain (R-Ariz.).
"The allegations against Roy Moore are deeply disturbing and disqualifying," McCain tweeted. "He should immediately step aside and allow the people of Alabama to elect a candidate they can be proud of."
In the meantime, Alabama Republicans appear to be stuck with Moore. It's too late to remove his name from the ballot before the special election.
And even if they could, it's not clear that Moore would step aside.
He's denied the reports and said they are a smear campaign by the Washington Post, which first broke the story.
Moore is set to face Democratic nominee Doug Jones in the Dec. 12 special election.