Why Texas, Puerto Rico, Florida and more still need disaster relief help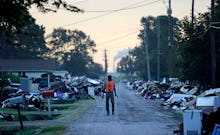 According to the National Oceanic and Atmospheric Administration, 15 climate disasters caused losses exceeding $1 billion each across the United States in 2017 so far.
These billion-dollar disasters included one drought, two floods, one freeze, seven severe storms, three tropical cyclones and one wildfire. More importantly, these events collectively resulted in the deaths of at least 282 people.
These events include Hurricane Harvey, which made landfall along the Texas Gulf Coast on Aug. 25 and claimed the lives of at least 82 people.
Just days later, on Sept. 5, Hurricane Irma followed suit, bringing with it 185-mph winds and literally wiped the island of Barbuda off the map.
And on Sept. 20, another hurricane, Hurricane Maria, made landfall on the island of Puerto Rico as a Category 4 storm with sustained winds of 155 mph. To date much of the island remains without power and the death toll is still unknown.
And these were just the the storms that happened to affect the United States this year and also happened to garner worldwide media attention.
Each of these storms were destructive, no doubt — but what may be leading to even bigger disaster is the fact that, just weeks after the storm clouds passed over the public, they seem to have been pushed out of the public's collective conscious. Perhaps many believe that when the storm ended, so did the devastation, which could not be more untrue.
"We really do believe that volunteers have a critical role to play in the post-natural disaster setting," Erik Dyson, CEO and Executive Director of All Hands Volunteers, said in a phone interview.
At All Hands, there is no maximum stay when it comes to helping communities in need. In fact, when they go in, Dyson explained, they make a promise to stay until the job is done. The same goes for their volunteers.
"We don't have the maximum or minimum. We literally have some volunteers who come up for one day," Dyson said, "And [we have] some volunteers who have changed their lives around in a way that they come out and they work with us for six months, nine months out of the year."
That promise to stay may be crucial for long-term recovery of communities.
"The challenge is the media cycle moves in the space of days," he said, "but true long-term recovery is measured in years."
Take Houston as a prime example of just how long recovery may take.
"Five years down the road, there will still be a lot of things to get done in Texas because of Harvey. It you look back to Katrina, you know we are 12 years down the road and there's still a significant amount of work to be done," Dyson said.
The problem is, public empathy dies off much faster than it takes to actually recover from a severe natural catastrophe.
As Psychology Today reported, humans are more than willing to express empathy and help their fellow man in the direct aftermath of a disaster. Texas, for example, saw hundreds of millions of dollars in donations come in just days after the storm hit.
However, when watching disaster after disaster and an endless news cycle showing death and destruction on every channel, people experience what is known as "compassion fatigue" — or, as Psychology Today explained it, a "reduction in empathy that occurs when an individual is exposed continually to the suffering of others."
"The challenge is the media cycle moves in the space of days, but true long-term recovery is measured in years."
And as researchers Philip Brown and Jessica Minty found in their 2008 study, "Media Coverage and Charitable Giving," "compassion fatigue" kicks in for most people just one week after a disaster hits. As Psychology Today pointed out, the study showed that donations to recovery efforts peaked at one week and slowed to a trickle by the end of week three.
"When we talk about long-term recovery, that word 'long' is really important to remember because it is three, five, seven, even 10 years," Dyson explained. And it's not that everything is "back to normal" after that time, but rather that's when the resources tend to just run out. "That's when people affected stop working on the recovery because there is just no more support available."
There are, however, ways to fight this fatigue and continue to both care and give to communities in need.
According to Pyschology Today, the first way is to fight it is for the media to continue to write about it (like we are doing right now).
As the Brown and Minty study found, for every additional minute of nightly news coverage or extra story an event received, donations rose by 17-21%.
And while in the immediate aftermath of a storm it is best to simply give cash, Dyson said that, in the long term, volunteers will be needed for a multitude of projects, meaning if you don't have the cash you can always give your time.
But if you want to give monetary donations that's always welcome, too, as recovery can be astronomically expensive. The best way, Dyson said, is to "find an organization you trust and trust them to do what is needed where it is needed."
The storm isn't over yet for organizations like All Hands Volunteers, who has committed to staying in Texas for two years. All Hands and other organizations are welcoming you to come get dirty and help clean up. And for Dyson, that's the biggest silver lining of this disastrous storm.
"I think the silver lining to this is, it is showing that while we're very divided in this country, an event like this has really brought people together to say we have to stand up and do something," Dyson said.