I was a fan of Louis CK and I didn't want to believe the rumors. Now they're more than rumors.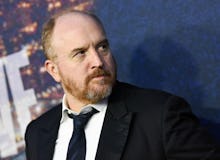 It was hard to be shocked on Thursday when the New York Times published a story in which five women accused Louis C.K. of sexual misconduct — a story which C.K. confirmed in a statement on Friday. C.K.'s actions — in particular, that he had exposed himself to and masturbated in front of several women in the comedy industry — were rumored for years. He often talked about masturbation and struggling with impulse control in his stand-up act. There even seem to be clues embedded within the comedian's fairly autobiographical FX show, Louie. And the story came amidst an avalanche of entertainment industry reports just like it.
So, yes, there was reason to have been suspicious of C.K. But it wasn't until he did a September interview with the New York Times' Cara Buckley, in support of his controversial and now-canceled film I Love You, Daddy, that my eyebrows really started to raise. "There are these people in the world that we all talk about, and we want to know that they're all good or they're all bad," C.K. said, ostensibly talking about the film's allusions to Woody Allen. "The uncomfortable truth is, you never really know. You don't know anybody. To me, if there was one thing this movie is about, it's that you don't know anybody."
It sounded like C.K. might be talking about himself, and Buckley said as much: "It's an observation that raises the question of how well do audiences know Louis C.K.," she wrote. C.K. went on to refuse to discuss the rumors, and then denied them, saying, "They're rumors, that's all it is." The whole thing stank — but then again, maybe C.K.'s sketchiness was an act, maybe he was provoking to promote. (Even after the interview, I made a point to defend the release of I Love You, Daddy.)
Before that interview was published, I — like many other C.K. fans, I imagine — wholeheartedly dismissed the rumors. Before "fake news" was part of the vernacular, I assumed that the rumors were, as C.K. said, just that. (I reacted to them much like Jon Stewart did when asked about his knowledge of them in this 2016 audience Q&A.) There's a lot of bogus information floating around the internet. Most comedians and actors seemed to have positive things to say about C.K. And C.K. was one of my favorite artists. I simply didn't want to believe the rumors. I didn't want this to be true.
Mind you, my love of C.K.'s work wasn't born purely out of titillation. The way he provoked audiences by pushing the envelope could be thrilling. But that was secondary for me. I liked his stand-up well enough, but it was his surreal TV show, Louie, that won me over. It was challenging like his stand-up, but it was also full of intriguing characters, gorgeous shots and sublimely weird moments: a woman escaping an uncomfortable date with him via helicopter, being woken up by a team of can-banging garbage men jumping on his bed, his spur-of-the-moment trip to China, the Bang-Bang double meal. His show was one of the era's best, and it ushered in a whole class of shows modeled after it.
For me, Louie came at a formative time. It debuted in the summer before my senior year of high school and went on what now looks to be a permanent hiatus the month I graduated from college. Louie was not a wholly original creation — it wore its many filmic inspirations on its sleeve — but it felt that way to me. There was certainly nothing else on TV quite like it. And it invited you to peel back the layers and discover its influences, including the French New Wave and the films of Robert Downey Sr.
It's a strange, murky territory to find yourself in, being a fan of someone you learn is guilty of a serious crime.
Of course, this isn't in any way meant to excuse C.K.'s actions or say that his work was so brilliant that it's worth stomaching what he's put these women and the people around him through. There's no excuse for the pain he's inflicted. Instead, the transformation of gross, troubling rumors into gross, troubling and indisputable facts has made me reflect on my own culpability as a fan of C.K.'s.
There's a bit in Dave Chappelle's 2017 Netflix special The Age of Spin in which he compares learning that Bill Cosby, one of his heroes, was a serial rapist to learning that chocolate ice cream was a serial rapist. "Didn't want to believe it," Chappelle says. "At first, I didn't believe it. I was like, 'Man, these people are obviously trying to destroy Dr. Cosby's rich legacy.' Even 34 allegations into it, I was still like, 'Man… he probably only raped 10 or 11 of those people.'"
If you don't have an attachment to Cosby, as I don't, Chappelle sounds ridiculous, bordering on reprehensible. It didn't take much for me to believe Cosby's accusers. Just considering the sheer number of accusers, it was hard to get my head around the idea that anyone wouldn't believe them. Nor has it ever been hard for me to believe Woody Allen's accusers, or President Donald Trump's accusers or Bill O'Reilly's accusers. But with Louis C.K. it was different, because I was a fan.
To be a fan, definitionally, is to be an "enthusiastic devotee." When an artist's work speaks to you and you become an enthusiast, you lose the ability to be rational.
It's a strange, murky territory to find yourself in, being a fan of someone you learn is guilty of a serious crime; you're at once an enabler and feel like you've been betrayed yourself, as self-centered and myopic as that may sound. You are part of the reason why it's hard for the actual victims of the crime to come forward and tell their story. But the reason why you're in that position is because you yourself don't want to be wronged or fooled by someone you care about or feel a connection to. Ultimately, we'd probably all be wise to listen to what C.K. told Buckley, even if it's the last time we listen to him.
"The uncomfortable truth is, you never really know. You don't know anybody."