2017 Holiday Shopping Secrets: 7 hacks to save money on everything you buy, every time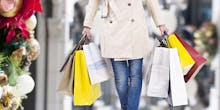 Seemingly huge holiday sales — no matter how misleading — tempt even the most stoic shopper. That's why a serious game plan is a must before heading out into the retail mosh pit of, essentially, the whole month of December. A tiny bit of preparation can save you a ton of cash.
"The best way to prevent yourself from overspending is to not only come up with a budget, but to itemize it," Lindsay Sakraida, director of content marketing with DealNews said in an email interview.
What does that mean? If you only have a lump sum target in mind while shopping, you're likely to find that you've gone over your budget in the end because you weren't pacing yourself correctly with each purchase, she added: On the other hand, if you allot just "$40 on a particular gift," for example, "you'll have a much better sense for how this purchase fits into your overall budget." 
But that's not the only way to plan ahead. Downloading apps that will help you comparison shop, finding store hours so you can be first in line for sales, and knowing the sneaky tricks retailers use to get you to overpay are all smart moves. Already have the basics down pat? Here are seven expert ways to save big on holiday shopping.
7. Know the best times for deals
The early bird may get the worm, but Tuesday shoppers have a leg up when it comes to snagging the best deals: Discount sites like RetailMeNot and Shopbop post their new merchandise and discounts on Tuesdays.
As for what hour of day gets you the best value? The ideal time to snag the cheapest deals is early in the morning, the New York Times has reported.
That's a great reason not to be worried about missing out on Black Friday or Cyber Monday deals. While it's true that you can score good discounts then, many online offers will extend into December, so don't feel limited.
6. Pause — and hit search
Know what you might want to buy? Black Friday ads from most retailers insist they have the lowest price, but it is hard to know you won't find the same item for less at another store. A few resources you can use to evaluate deals and products include the Consumer Reports holiday gift guide or Mic's rundown of pre-Black Friday, Thanksgiving and Black Friday deals.
But most of all, remember your phone is your friend when it comes to figuring out if you're getting a good deal. Simply type the exact product name in — or scan the barcode with an app like ShopSavvy — and look to see what other prices retailers are offering. Then you can make a purchase with confidence.
5. Haggle the smart way
Now that you know the truth about the item's normal retail price, you can use that information to save money.
You don't need to get into an argument every time you check out, but you can save big by asking for a price match at some stores. You might be surprised: A number of retailers — including Best Buy, Target and Walmart — will honor a lower price if you can prove it's available elsewhere. In some cases, you can even search on your phone on the spot in the store and show it to the sales person to get the discount. Just be sure to ask the right way.
Another way to lower the price is by seeing if any of the items you want are very slightly damaged or "dinged" in some way. Simply point out the flaw and ask if the store might be willing to give a discount for the item. Ca-ching. "Most store managers have the discretionary ability to discount almost any item in the store by up to 15%. All you have to do is ask," Wise Bread reported.
One last trick is to walk up to the register with a large number of items and ask if there are any discounts for big purchases. Even if the salesperson says no, they might point out another deal that you overlooked that could lower your total cost. If you're shopping online, you can often get free shopping if you spend more than a certain amount — and always remember to search for coupon codes before you check out virtually.
4. Add on coupons and cash-back offers
Deepen your holiday discounts using coupons and getting cash back. Using cash back apps like Ebates and Shopkick should be a no-brainer before you shop because you don't have to do much to earn cash back from a vast number of retailers. Flipp, which organizes all of your local deals into one place, keeps all of your store loyalty cards in a single location so you can earn cash back from individual stores.
Next, add in some coupons to drop those discounts even lower. Sites to scan before you shop include Coupons.com, Money Saving Mom, the Krazy Coupon Lady, Yipit and more.
3. Play the gift card game
It's easy to run to the local drug store to pick up a bunch of gift cards in a gift-giving panic, but if you can plan ahead, just a little, you can save money on that purchase. Websites like Cardpool, Raise or Gift Card Granny all sell gift cards for discounts of up to 35%. And maybe you are already purchasing gift cards for your friends or your kids' teachers or your dog walker, but there's a different option, too: Buying them for yourself.
Some retailers have special bonus offers during the holidays for those who purchase items with a gift card, so you could get $25, for instance, if you purchase $100 worth of gift cards. Throw in a coupon when you pay with the gift card, and you're a savings pro.
2. Don't pay for shipping
With more shoppers heading online for deals, the demand for discounts and freebies for shipping is stronger, according to the United States Postal Service. Nearly half of USPS customers said that free shipping and shipping promotions drove their purchases in 2016. "Keep an eye out for discounted shipping promotions as we get closer to Christmas," Sakraida said. "Stores typically offer free standard shipping early in the month, and then as those deadlines for guaranteed Christmas shipping pass, many will offer coupons that discount expedited shipping."
In the meantime, buyers should be ready to pounce on Free Shipping Day this year, which is Friday, Dec. 15. Nearly 300 retailers have already signed up including Aerie by American Eagle, Claire's, Dell, Lands' End, Talbots and Target. Anything you order that day is guaranteed to arrive by Christmas Eve.
In general, try to stick with retailers that not only cover the cost of delivery — but also promise free two-way shipping so you can return items at no cost.
1. Get "free money" back after a purchase
As Mic has reported, there are many surprising ways to claw back some cash after shopping: You can use a free app like Paribus, for example, to get cash back after an item you've purchased goes on sale; the app scans email offers from retailers and find stores that owe you a refund if there's a price drop.
And, of course, with the right credit card, you can make sure that every time you shop you are earning back travel points or cold, hard cash. Here's how to do the math and make sure your rewards credit card is really paying you top dollar — and to switch to a more generous card if it's not.
Know that how you pay for your purchases can make a bigger difference than you think. Unless you are in debt, paying with a credit card is almost always the way to go. Credit cards both have better protections than debit cards in case you need to dispute a charge and are more likely to offer you cash or rewards. In general, it's wise to use your debit card only for taking out cash at an ATM — and even then, you should watch out for the signs that a card skimmer has been attached by thieves.
The biggest downside to using any plastic to pay for purchase? You don't feel the physical pain of parting with cash, which might lead you to spend more than you budgeted. Of course, simply being more aware of the emotional triggers that push you to overspend can be enough to keep you on track: That's why it all comes back to planning ahead.
Want more shopping hacks? Learn how to save money on clothes here and use coupons on everything you buy here.
Finally, remember: If you're worried about money this season, it's okay to trim your gift giving list. We all have some friends and family members who might actually be relieved not to have to exchange gifts: "Often if you approach someone saying you're hoping to cut down on expenses this year and wanted to know if they felt the same, they're more than happy to cut back, too," Sakraida said. You can always make it up to them with a post-holiday drink or meal after the frenzy dies down.
Sign up for the Payoff — your weekly crash course on how to live your best financial life.