The overall well-being of Americans is worse in 2017, and the election could be partly to blame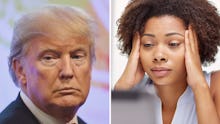 Americans' overall well-being is on a serious decline in 2017, and the reasons could be somewhat political.
According to the annual Gallup-Sharecare Well-Being Index, most Americans are reporting fewer supportive relationships and a weaker sense of community in their lives, along with a lowered sense of self-purpose, lesser physical health and more financial hardship.
And though the report doesn't give an indication as to why there's a sudden drop, Dan Witters, research director of the Gallup-Sharecare Well-Being Index, told Quartz the results are likely related to the 2016 election.
"Whether you're Republican or Democrat, there's an increased probability you'll be in relationships that are more contentious," Witters said. "There's going to be more arguing and more negativity than there used to be around the dinner table. That's going to hold true regardless of whether you're pro- or anti-Trump. But that swirling animosity, mixing it up at the dinner table, that's real."
Registered Democrats collectively reported a negative change to their well-being that was three times higher than Independents or Republicans.
The decline reverses a previous three-year increase in Americans' well-being from 2014 to 2016. The Gallup-Sharecare Well-Being Index is based on 135,426 phone interviews with U.S. adults across all 50 states and the District of Columbia; it ultimately assigns a well-being score of 0 to 100, with 0 depicting the lowest possible well-being.
In 2017, the American well-being score is 61.5, which is down from 62.1 in 2016.
"This decline is both statistically significant and meaningfully large," the report said.
Who's hurting, and how?
Not everyone's feeling the pain equally, nor in the same way.
Women, people of color and Americans with lower incomes experienced the greatest declines in their well-being. Across racial lines, black and Hispanic respondents had the largest negative change to their well-being score compared to their white and Asian counterparts.
In general, respondents collectively showed significant increases in signs of mental health issues. About 32.1% of people polled said they are experiencing significant daily worry, for example, up from 29.5% in 2016. Meanwhile, there was a 7.3% increase in the number of people reporting "little interest or pleasure in doing things" several times a week, which amounted to 41.1% of the total sample.
The index is certainly an interesting starting point for thinking about how we define and measure our own well-being. If the lesson here is self-care, we might want to take steps to manage anxiety and depression, surround ourselves with quality relationships and be politically vocal on the issues we care about.
It also, of course, depends on how we look at it. About 74% of respondents still say they like what they do each day and that their family and friends give them positive energy. If the index is to represent the whole population, that means that three quarters — or a majority — are at least fulfilled in this way.
So, even though fewer people are technically reporting positive feelings in 2017, the good news is these numbers are still fairly high.