Mic Wakeup: All the latest on Senate candidate Roy Moore's alleged sexual misconduct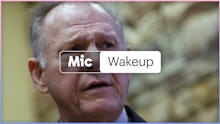 It's Tuesday, Nov. 14. Here are three stories you need to read.
A fifth woman accused Roy Moore of sexual misconduct.
On Monday, Beverly Young Nelson came forward as the fifth woman to accuse U.S. Senate candidate Roy Moore of sexual misconduct.
In a press conference Nelson explained that she met Moore at the restaurant she worked at decades ago in Alabama. According to Nelson, Moore molested her in his car after she agreed to let him give her a ride home.
"Mr. Moore reached over and began groping me, putting his hands on my breast," Nelson said. "I tried to open my car door to leave, but he reached over and locked it so I could not get out. I tried fighting him off ... but instead of stopping, he began squeezing my neck, attempting to force my head onto his crotch ... I was terrified."
Nelson added that Moore warned her at the time that nobody would ever believe her if she told anyone about the crime.
"You are a child," Nelson alleged Moore said. "I am the district attorney of Etowah County. If you tell anyone about this, no one will believe you."
Senate Majority Leader Mitch McConnell is siding with Moore's victims.
Moore appears to be rapidly losing support within the Republican party, including the support of Senate Majority Leader Mitch McConnell.
On Monday, McConnell said, without hesitation, that he sides with the women accusing Moore of sexual misconduct.
"I believe the women," McConnell said while taking questions at a Louisville, Kentucky, press conference. He added, "If these allegations are true, he must step aside."
McConnell isn't the only one calling for Moore to step aside. Sen. Thom Tillis, Sen. Orrin Hatch, Sen. John McCain, Ohio Gov. John Kasich and more have all called for Moore to end his campaign.
Roy Moore says he will sue the Washington Post.
On Sunday, while speaking to a crowd of supporters in Huntsville, Alabama, Moore said he planned to sue the Washington Post for its story alleging he had sexual contact with a 14-year-old girl nearly forty years ago.
"We do not plan to let anybody deter us from this race," Moore said. He added that the report, which quoted four women by name, each alleging that Moore had engaged in inappropriate conduct, was "fake news."
While several prominent Republicans are calling for him to step aside, Moore appeared to double down on his campaign, telling the crowd, "I'm counting on you to stand with me at this critical moment by chipping in a donation to help me bust through the vicious lies and attacks and get the truth out to as many voters as possible before Dec. 12."