Calvin Toney is the 196th known black man shot and killed by police in 2017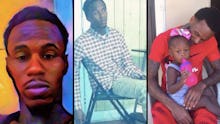 The man shot and killed by police in Baton Rouge, Louisiana, Monday night was 24-year-old Calvin Toney, his family told local TV news station WAFB-TV. On Tuesday morning, local authorities confirmed his identity.
Officers with the Baton Rouge Police Department had been escorting a child welfare case worker to a local apartment complex, before a reported struggle between Toney and the officers, according to a spokesman for the Louisiana State Police, which is investigating the incident.
The struggle lasted several minutes, before a stun gun was deployed to subdue Toney, East Baton Rouge District Attorney Hillar Moore III said in a press conference Monday, the Associated Press reported. Toney was then shot by one of the officers. It was not immediately clear why the less lethal use of force wasn't sufficient.
As of Tuesday morning, officials were also not releasing the name of the officer who used deadly force. Footage from the officer's body-worn camera was being reviewed, Baton Rouge Mayor Sharon Weston Broome said.
When news spread about the shooting, roughly 100 local residents gathered near the scene. Some chanted "Black lives matter" and "no justice, no peace."
According to the the Washington Post's database tracking fatal police shootings in the U.S., Toney is at least the 196th known black person shot and killed by law enforcement in 2017. The Post counted 233 black people killed by police in 2016.
Among the 2016 shootings was Alton Sterling, the 37-year-old black man killed by police outside a Baton Rouge mini-market where he was selling homemade CDs. The officers involved in the shooting were not indicted, and federal officials declined to bring criminal civil rights charges in May.
Sterling's death sparked nightly protests and mass arrests of protesters in Baton Rouge, while also fueling related protests nationwide.
Broome, the city mayor, urged calm while investigators learned more about Monday night's shooting. "The protocol is to have the State Police do the investigation," Broome said, according to WBRZ-TV. "I certainly believe that they will do a very thorough investigation. What's so vitally important is that we keep the lines of communication open with the community."