Cards Against Humanity trolls Trump's border wall with new campaign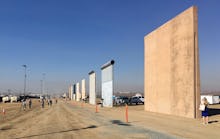 On Tuesday, everyone's favorite party game Cards Against Humanity unveiled its latest viral stunt: The company bought acres of land along the U.S.-Mexico border in an effort to stop the government from building a wall.
It's clever — though it's unlikely to stop the Trump administration from building the "big, fat, beautiful wall" he's previously described.
"Donald Trump is a preposterous golem who is afraid of Mexicans," the company wrote on a new site, Cards Against Humanity Saves America. "He is so afraid that he wants to build a $20 billion wall that everyone knows will accomplish nothing. So we've purchased a plot of vacant land on the border and retained a law firm specializing in eminent domain to make it as time-consuming and expensive as possible for the wall to get built."
The entire stunt is part of the company's holiday promotion. For $15, a customer can purchase surprise gifts that will be delivered for five days straight.
For those hoping this stops the wall, purchasing this land will likely do very little other than annoy some of Trump's lawyers.
As CNN reported, the Trump administration has already started hiring a small army of lawyers who are preparing to sue property owners and seize lands via eminent domain. Customs and Border Protection issued a notice back in July as part of its effort to shore up existing fencing along the Rio Grande Valley.
"Using existing funds for preparatory activities, CBP and [US Army Corps of Engineers] will soon begin public-facing real estate research activities for [Rio Grande Valley] border wall requirements in the president's [fiscal year] 2018 budget," the notice read.
Now, the Department of Justice is seeking an additional $2 million to hire 12 acquisition attorneys to mount an "initial surge" against the land owners, according to a new report by Democrats on the Senate Homeland Security Committee.
According to the report, the government will need to acquire "hundreds or thousands of parcels of land," which could take millions of dollars and years to complete. That's a rough estimate. "The committee was informed that the administration cannot provide the committee with any definitive real estate costs or requirements, cannot tell the committee how many American citizens will have their land seized and has no timeline for completing land acquisition efforts necessary to build the wall that President Trump has ordered."
The government will also have to go through a lengthy process to procure the land, first offering fair market value. If the owner declines, the government will then take the owner to court, at which point authorities will invoke its "eminent domain" power. According to CNN, under the Constitution, authorities are allowed to seize private land for public use, so long as the owner is compensated and the land is for public use.
So, at best, what the hundreds of land owners along the border, as well as the owners of Cards Against Humanity can do is take Trump's administration to court and hope their cases last longer than his presidency does.