Mic Wakeup: Here's how to save a ton of cash over the Thanksgiving holiday weekend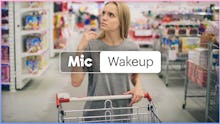 It's Wednesday, Nov. 15. Here are two stories you need to read to help you save some cash over the upcoming holidays.
What's the deal with pre-Black Friday sales?
Black Friday may still be more than a week away, but that isn't stopping retailers from starting their annual holiday sales early.
In fact, many stores already have the ball rolling on sales and that's certainly a good thing for shoppers because everyone apparently hates mall crowds.
According to a survey by eBay, three out of four shoppers said they'd rather make a sacrifice or give something up than endure the shopping trauma that comes with Black Friday itself.
Moreover, you may not even be saving by getting out of bed at 6 a.m. with a post-turkey hangover to shop on Black Friday. According to research, consumers may be paying more for Black Friday "bargains." And if you save at all, an analysis by ShopAdvisor showed that you'll likely only save under 5%.
So what can you do to really save? Mic reporter Christy Rakoczy explained it's always best to go into any shopping trip, holiday or otherwise, with a well-prepared list so you don't just shop willy-nilly.
And before you even hit the stores, make sure to Google all the products you're looking for so you can see the fair market price (or even snag a great deal online).
Here's how to actually book cheap flights over the holidays
An astonishing 28.5 million people are expected to fly this holiday season, meaning airports will be packed, luggage will likely be lost somewhere and flights are filling up fast.
But there is still hope for scoring a modestly priced seat, as long as you're flexible about the way you travel.
One of the biggest ways to save is to be flexible about when you leave. Consider traveling on a nonpeak travel day. "If you travel on Thanksgiving morning itself, you'll not only get fewer crowds in airports, but oftentimes, tickets themselves are less expensive," Emily McNutt of the Points Guy told Mic. "If you can catch an early enough flight, you'll arrive home right in time for the big meal."
And if you can leave just a touch later than expected, you may be able to save big, too. As Mic found, flyers may be able to reduce their flight cost by $172 by traveling from Los Angeles to Denver on the Monday after Thanksgiving instead of the Sunday.
Finally, understand your flyer rights, so if something goes wrong you can get reimbursed. For example, airlines are indeed allowed to bump passengers as long as they provide compensation. And sometimes getting bumped isn't a bad thing, as you could end up with as much as $1,350 or 400% of the price of the ticket, whichever is less — depending upon the length of the delay and your final destination.