Thanksgiving 2017: How to host dinner for under $50 with tasty side dishes, desserts and free turkey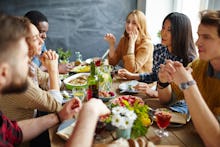 Thanksgiving is the most American of annual rites, when we gather with friends and family to reflect on what we're most thankful for, watch a little football and indulge in an over-the-top meal. If you get to be head chef this year, while the rest of us are running out to buy wine and planning our eating strategy for the big day, you're probably more focused on figuring out your budget strategy instead.
Specifically, how much is this grand dinner going to set you back? Thankfully, the big meal doesn't have to cost a fortune — even if it looks and tastes extravagant. The average cost of a 10-person feast is less than $50 this year, which is actually slightly lower than in 2016. That's according to the American Farm Bureau Federation, which based its meal prices on a spread that includes turkey, bread stuffing, sweet potatoes, rolls with butter, peas, cranberries, a veggie tray, pumpkin pie with whipped cream, and coffee and milk.
Of course it's all too easy to get carried away and exceed that $50 mark, especially if you buy organic products, off-season produce and pricey booze. Even a single fancy ham or turkey can set you back nearly $200. And if you get lazy and decide to order online instead, you could spend well over $150 — not including dessert. Luckily, overspending isn't necessary, even if you plan to host the perfect feast. How so?
A few genius tricks can help keep costs low but still result in a Thanksgiving for the ages — that wows friends and family alike. Here's how to host a classy, delicious meal that's still totally affordable, in 10 simple steps.
Thanksgiving 2017: For less than $50
You can totally have a killer Thanksgiving for less than $100, if you want to take things up a notch, but there are also some smart, easy ways to pare back spending, so the whole meal is less than $50. Here's how to plan your perfect feast on a budget — or a shoestring.
1. Free turkey? Save on the bird — and know how to brine, cook and portion it.
Your first instinct is probably to go big with the bird, especially if you will have a large crowd. The golden rule for turkey is to have about one pound per person, according to the Kitchn, so if you are hosting your entire squad, you'll need to find a grocer that is going to give you a price break on the poultry.
Last year, the average price per pound of turkey was about $1.40, but you can do better. Kroger is currently advertising turkeys at 59 cents per pound with a Kroger card and Safeway has turkeys for as low as 49 cents a pound with a $25 minimum purchase. Other stores selling turkeys for about $1 per pound include Publix, Meijer, Target, Walmart and Stop & Shop, Money reported. That means you can get a 16-pound turkey for $16 or less.
Look for rebates to get even more savings. "Check manufacturer websites for available offers. You may also find them in store aisles," Lauren Greutman, savings expert for Flipp said in an email interview. "For example, get a $3 instant rebate on turkey when you buy a particular bottle of wine."
As for the very best way to save? Look out for free turkey deals that come with minimum purchases; meaning you can dip into your "normal" grocery budget and buy foods with long shelf lives in bulk for the month ahead to get a bird gratis. In 2016, you could have gotten, for example, a free or discount turkey with minimum purchases between $30 and $150 from Bi-Lo, Fareway, Acme, Office Depot/Maxx, Albertsons and Safeway. As the Krazy Coupon Lady suggests, just be sure you're buying only items you actually need, and consider a "buy a ham, get a free turkey" deal — available last year at Hy-Vee and H-E-B — and freezing the ham for Christmas or winter holidays.
Remember you can save money, too, with a clever homemade brine, like this one from Bon Appétit, which will set you back less than $5 if you already have most of the seasonings and veggies in your pantry. And don't forget the gravy, which you can easily make for a negligible cost with pan drippings and a little flour, salt and pepper using this recipe from the Kitchn. (Here are some turkey carving tips, in case you need them.)
One roasted turkey recipe from BudgetBytes will feed six or more people for just under $12.
2. Make decadent, high-value side dishes
Choosing the right side dishes can make or break your dinner because you'll want to have a decent number of choices to satisfy your guests' diverse tastes.
One must is homemade cranberry sauce. Leave the can at the store because not only is this cranberry sauce from Budget Bytes easy to make, but it's only going to set you back about $3. All you need is a bag of fresh cranberries, some sugar and a single orange to serve six.
For a vegetable dish to please just about everyone, try this creamy green bean casserole jazzed up with some crispy fried onions. Mmmm. An $8 casserole is enough for six, and don't forget the stuffing, which can feed six people for just over $4. Budget Bytes' apple walnut stuffing starts with boxed stuffing mix, but lets you incorporate fresh apples, walnuts and butter for a seasonal favorite.
You can go for the gusto and serve maple brown butter mashed sweet potatoes for less than $6. Considering the typical price of sweet potatoes dropped this year to $3.52 for a 3-pound bag, you can really be generous with the servings. This recipe combines a smidgen of everything that says "holidays," such as maple syrup, nutmeg, cinnamon, cloves and pecans.
And even though you don't want to put your guests into a carb coma (or maybe you do), you still need to offer some rolls or bread to sop up the gravy and other Thanksgiving drippings. Although you can pick up a dozen rolls for about $2.26, you can make your own focaccia rolls if you plan ahead. While these herby rolls should only cost you a little more than $1 a dozen, you'll need to prep them ahead of time to allow the dough to rise.
3. Offer appetizers that merely taste expensive
Still have room in your budget? While you don't want your guests to fill up prior to the meal, you'll want some pre-dinner snacks other than a few sorry carrot sticks. A few good dips are always helpful because you can partner them with crackers, vegetables, bread chunks or chips for $2 or less.
Add some spice and offer Sriracha hummus, which should only set you back about $2.50. Or, skip the spice and save about 24 cents to make plain, homemade hummus, which should still be a hit. To balance a cold dip, offer a hot one like this spinach and artichoke dip, from Natasha's Kitchen, which is a little pricier at about $7, but is sure to be a crowd pleaser.
For finger foods, try creamy black bean taquitos that you can make for just shy of $5. Or check out these Sriracha deviled eggs, which you can make for about $2 per half dozen, for a recipe you'll definitely want to double.
4. Tantalize guests with unforgettable desserts
Of course, no Thanksgiving is complete without the pie. And while you can spend upwards of $30 for an apple pie from a bakery, making your own is the way to go on a budget. The average price for two, 9-inch pie shells is about $2.45, or you can make your own pie crust for a little over $1. A basic pumpkin pie costs less than $6 to make if you use the premade pie shells and canned pumpkin. (Don't be put off by the canned ingredients: It's still delicious.)
Alternately, you can get creative with a $5 lemon-blueberry creamed cheese galette, or this cranberry almond cake for just over $4. Skip the canned whipped cream and make your own for closer to $3, factoring in the cost of sugar. Sprinkle a little nutmeg or cinnamon on top to make it look fancy.
5. Serve a signature cocktail
While you could purchase 10 bottles of wine, spending at least $10 a pop could get you to $100 pretty fast. While you can find some bargain wines for under $7, Consider creating a special signature cocktail that will make your meal extra special. For something festive, brew up a batch of Thanksgiving sangria. This recipe from the Kitchn should only set you back about $10 per pitcher if you use super-cheap wine and some of the cranberries and oranges you used for your cranberry sauce.
Make a few pitchers of sangria and ask your guests to bring a bottle of wine to save on alcohol costs, which can quickly eat up your entire budget.
In short, you can easily stay under a $50 budget with the following items: Turkey ($12), cranberry sauce ($3), green bean casserole ($8), sweet potatoes ($6), stuffing ($4), rolls ($1), hummus dip ($2.50), wine ($7) and pie ($6) — for a grand total of $49.50.
Want to expand to a $100 budget? Throw in a nice brine for your turkey ($5), two pitchers of homemade sangria ($20), spinach dip ($7), chips ($2), taquitos ($5), deviled eggs ($2), whipped cream ($3) and a galette ($5) — for a grand total of $98.50.
How to save even more money on Thanksgiving
Feeling financial stretched — and skeptical of whether the menu above will work for you? There are even more ways to save money if you get your guests to pitch in, shop strategically for ingredients or consider a more charitable Thanksgiving.
6. Go potluck
One easy money-saving strategy is to ask guests to bring their favorite dishes instead of you doing it all yourself. "Cooking Thanksgiving dinner by yourself is a falsehood," Hali Bey Ramdene, food editor for the Kitchn, told NerdWallet. Instead, "Save yourself stress and money by having guests bring dishes or beverages to share."
You can, for example, offer to make the turkey and then be specific about what else you want each guest or family to bring. Doing this will allow you to have a more balanced dinner rather than having five out of your 10 guests bring green bean casserole — and careful planning means people will get to proudly showcase their best cooking talents.
7. Don't invite the turkey
Seriously: It is okay to skip the turkey. While some people will gasp at that statement, skipping fowl and going vegetarian means you could save about $22 on the turkey alone for a hypothetical 16-pound bird.
But be cautious when throwing a vegetarian Thanksgiving: While you may think you are being sly saving on the turkey, it's easy to get carried away by replacing the actual bird with a soy or tofu turkey. Some faux turkey prices can be as high as $7.99 per pound, according to Slate, which far exceeds the costs of a traditional turkey.
Instead, focus on offering a diversity of flavors and vegetables and fruits. Here are some delicious vegan and other plant-based recipes perfect for Thanksgiving.
8. Use sly timing for your shopping trip
Considering shopping Monday or Tuesday if you haven't gone already: "Try to get as much of your Thanksgiving shopping done in advance," Greutman added. "For perishables, avoid shopping the Sunday and Wednesday before Thanksgiving. Your best bet is to get there on Monday or Tuesday morning." You'll hopefully miss the crowds by shopping in the morning, which means you could have more time to explore choices at the store.
Also, know which grocery stores will offer special deals during the holidays. Whole Foods, for example, announced it was slashing prices on typical Thanksgiving fare for Amazon Prime members, according to CNN, so you may be able to purchase herb and vegetable staples for less.
9. Repeat ingredients in your dishes
Thanksgiving dinners often include some of the same flavors throughout, so rather than trying to introduce new foods or funky herbs, buy in bulk and use the same ones for just about every dish. You can purchase some seasonal vegetables like celery, carrots and potatoes, along with garlic, rosemary and basil in bulk, which can be used in side dishes, the turkey, gravy, stuffing and even in your appetizers.
Instead of doing green beans for a side dish, for example, you might make roasted carrots — which are only going to set you back about $1 per pound, according to the Produce Price Index. Use some of the same spices, vegetables and herbs you used on the turkey and you've got a side dish for about 10 people for about $7.
If potatoes are part of your fare, opt for Russet potatoes, which run about $5 to $6 per bag. Use some of the same spices and herbs for an $8 dish. For more recipes that won't break the bank but still taste great, check here and here.
10. Have a light meal — then give back
Finally, if you'd rather downsize the meal or skip cooking altogether, you could instead contribute to your community and volunteer your time to help those who are struggling this holiday season. Organizations like VolunteerMatch can help you identify opportunities, or check with your local church or community organization to see if they need volunteers.
Even if you plan to host your dinner on the day of, note that another way to use Thanksgiving to give back is simply to commit to volunteering at a later date — since the supply of volunteers balloons on Thanksgiving and there are bound to be future lulls when you'll be needed even more.
Sign up for the Payoff — your weekly crash course on how to live your best financial life.