Mic Wakeup: Roy Moore loses his lead, Fox loses cred with its audience and we all win with HQ Trivia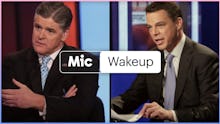 It's Thursday, Nov. 16. Here are three stories you need to read.
Roy Moore's lead is totally gone
Roy Moore's fall from grace continued on Wednesday when it was revealed that the Republican Senate nominee now trails his opponent by 12 points, according to a National Republican Senatorial Committee poll.
Moore, who has now been accused by seven different women of sexual misconduct, has remained defiant and adamant that he will not step down from the race.
Not only have many high-ranking figures in the Republican party asked Moore to step aside, but the party itself has also pulled its support. Yet, apparently Moore isn't taking the hint and has instead threatened to sue the Washington Post for first publicizing the story of his alleged misconduct with a 14-year-old girl when he was in his 30s.
"After 40 years, four weeks out of an election, not even mentioned in a primary, they bring charges and try to back them up with other things that sound bad," Moore said of the Post's reporting while making an appearance on The Sean Hannity Show. Moore added that the piece was the "very definition of fake news."
Sean Hannity and Shepard Smith are causing Fox to have an identity crisis
On Tuesday, two of Fox News' biggest names took to the airways to give their audiences two wildly different takes on the same story.
First, Shepard Smith spent more than six minutes explaining to viewers that the Republicans' Uranium One conspiracy theory is largely, if not wholly, untrue.
According to Republicans, Hillary Clinton orchestrated the sale of uranium to the Russians during her time as secretary of state. In exchange for the sale Clinton allegedly took donations for the Clinton Foundation.
However, as Smith explained, the story holds no weight as Clinton couldn't have brokered the deal. Instead, the State Department, where she worked, was part of a nine-member committee that was in charge of evaluating the agreement. It was later approved by then-President Barack Obama.
But none of that common sense meant anything to Hannity, who more than doubled down on Smith's airtime, dedicating a full 17 minutes to calling the accusations against Clinton "facts."
"These are all massive scandals," Hannity said, calling the Clintons a "crime family." He added, "[The tree graph] shows the entire scale of the Clintons' willingness to do anything and everything to gain power and wealth at all costs. Look at this. Pretty amazing. There's so much to investigate."
Hannity has been vocal about his distaste for Smith's seemingly "anti-Trump" reporting. However, Smith may have won this round with a swift statement to to Mediate, where he said: "Sometimes facts are displeasing. Journalists report them without fear or favor."
Here's what it's actually like to win HQ Trivia
All of us like to feel like winners, but too bad most of us aren't ... at least when it comes to playing the new wildly popular iPhone game HQ Trivia.
The game, which runs twice daily, allows for thousands of players to play at once for their chance at taking home a jackpot ranging from $250 to $1,000. Of course, you have to split that jackpot with everyone else who answers all the questions correctly, but who cares, you won!
So what does it feel like to actually win this viral game and walk away with a few dollars lining your pocket? Because we haven't experienced that unique euphoria for ourselves, we found a few people who have to share their thoughts.
"We were making a joke, like, 'We're going to finally win and it's only going to be a dollar,' and of course it was a dollar when it was calculated at the end," Maddie Kirby, a 24-year-old who lives in Portland, Oregon, said. She added, "I've been working with one of my coworkers for a year and a half, and that was the first time he had ever hugged me, when we won."
For others like Rhyse, a 26-year-old from Seattle, the game has become more about socializing than actually winning (though he did once walk away with more than $35 from winning).
"We don't miss a game," Rhyse said. "Whatever we're doing, we stop and play. My husband plays at work — I've been working at home, so I'm never really busy — and yeah, it's become a ritual ... My husband won a couple weeks ago before I did, and he got around $60."