Road Trip Diaries: 6 stops that celebrate Texas culture from Dallas to San Antonio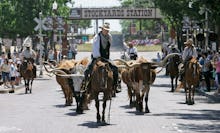 Things are bigger in Texas — the boots, the trucks, the belt buckles, the steaks and, of course, the 10-gallon hats. And, as the biggest state in the Lower 48 by a country mile, so are the driving distances. Fortunately, four of the state's most exciting, fastest-growing cities, Dallas, Fort Worth, Austin and San Antonio, are spaced relatively close together along the north-south I-35 corridor, making for an easy drive. This part of Texas is classic road-tripping country, as it merges all of the old-fashioned cultural touchpoints you've come to expect from the Lone Star State — cowboy culture, honkytonks, swimming holes, Tex-Mex comfort food and steakhouses — with vibrant, culture-rich cities that are bursting at the seams with innovative restaurants, independent retail and world-class entertainment.
1. AllGood Cafe
2934 Main St., Dallas, Texas 75226
Start your trip with eggs and chicken-fried steak — a Dallas culinary specialty so ubiquitous locals simply call it by its shorthand, CFS — at AllGood Cafe, a Deep Ellum institution. The décor is handmade and personal, with mementos scattered liberally, paper cranes hanging from the ceiling and screen-printed concert posters adorning the walls that speak to owner Mike Snider's long history promoting Texas music (he brings country acts in four nights a week). If CFS isn't your thing, huevos rancheros, breakfast tacos and borracho biscuits are solid backups.
2. Fort Worth Herd
131 E. Exchange Ave., Fort Worth, Texas 76164
At the Fort Worth Stockyards, twice-a-day cattle drives down East Exchange Avenue serve as a visceral reminder that the Old West days of cowboys driving livestock north to Kansas and Nebraska rail depots are part of a not-so-distant past here. Historians estimate that more than 6 million Texas Longhorns made the three-month journey in the post-Civil War decades, strengthening cowboy culture and shoring up the Texas economy. Today, 18 Longhorns — with down-home names like Tex, Brown Sugar and Sheriff Smitty — make the photogenic trek around the block, urged on by drovers in historically accurate period costumes (chaps, boots, hats) on horseback. Afterward, explore the surrounding Stockyard District, with its trendy restaurants and shops.
3. Mi Madre's
2201 Manor Rd., Austin, Texas 78722
Few restaurants do Tex-Mex with more heart than Mi Madre's, a family-owned neighborhood spot that opened in 1990 as a 10-seat "taco shop," but has since evolved into an East Austin culinary classic. Long hailed as one of the city's best breakfast spots, with 18 taco varieties, a massive spread of migas and some wildly good enchiladas, it's no slouch during the day, either. The overstuffed burritos and sizzling fajitas will fill your belly and, thanks to the friendly, laid-back atmosphere, warm your soul.
4. Hamilton Pool Preserve
24300 Hamilton Pool Rd., Dripping Springs, Texas 78620
In case you hadn't heard, Texas summers are crazy hot (spring and fall are pretty warm, too). Cool off at Hamilton Pool, a postcard-worthy jade-green grotto with a 50-foot waterfall. It's an almost magical place, surrounded by a 232-acre protected natural preserve, where endangered birds flit through the cedar trees, and bobcats and foxes skulk around the surrounding woods. Located about 30 miles west of Austin, the 25-foot-deep pool has become wildly popular among Austinites in the past decade or so, and reservations are required May through September. But that's a small price to pay for a refreshing swim in the Edenic canyon. Travelers can expect a $10 per vehicle reservation fee May through September, plus a $15 per vehicle entrance fee.
5. Gruene Hall
1281 Gruene Rd., New Braunfels, Texas 78130
Take a twirl around the dance floor at Texas' oldest continually operating — and still most popular — dance hall. Open since 1878, this unassuming place is where country music royalty is crowned, and you might just find yourself boot-scootin' to the likes of Garth Brooks, Jerry Lee Lewis or the Dixie Chicks. Blues, Americana and rockabilly sometimes sneak into the nightly lineup at Gruene Hall (it's pronounced like "green"), but you should come ready to go two-step (the worn wooden floors are covered in fresh cornmeal for easy sliding) and belt out Waylon Jennings and Willie Nelson's anthemic "Luckenbach, Texas."
6. Hotel Emma
136 E. Grayson St., San Antonio, Texas 78215
With its riverfront location in the red-hot Pearl District, Hotel Emma is a picture-perfect basecamp for exploring San Antonio's hippest shops and most cutting-edge restaurants. The only problem is that this hotel is so immersive — with its award-winning restaurant (Supper), rooftop pool, intimate cocktail bar (Sternewirth) and wonderfully original, steampunk décor carved from an 1800s brewery — that you never want to leave the premises. If you must venture out, though, your best bets are cruising the nearby Riverwalk on a hotel bike, or arranging a roving food tour with the hotel's well-connected culinary concierge. Rooms start at $335.