Lil Peep was going to take emo and rap to new places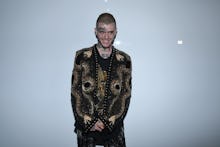 Lil Peep didn't have to be an innovator to instantly master a sound. The Long Beach, New York, artist — born Gustav Åhr — sing-rapped memorable tunes that were cribbed together from parts of pop-punk and hip-hop, genres that only recently became sonic bedfellows. Yet his timing was impeccable.
Lil Peep obtained vastly more media interest than Blink-182's most recent reunion album by attaching their sort of adolescent whine to his pain. And by oversharing his romantic and drug problems without grossly rationalizing his issues with faux cleverness. Oh, and by coming out in August as bisexual, a rarity in rap-rock, the music world's capital for toxic masculinity.
Then, on Wednesday night, he was pronounced dead on his tour bus while in Tucson, Arizona, where he was scheduled to perform. He was 21, cruelly early for even a rock-star tragedy, younger than the Notorious B.I.G., Kurt Cobain and Jimi Hendrix. And he was only two years into developing a sound capable of garnering major music-media attention.
But even more so than the departed Biggie — who famously grappled with "Suicidal Thoughts" and quipped "You're Nobody ('Til Somebody Kills You)" — many of Peep's songs concerned when he would die. "I'ma die, I ain't even 25" he sings on the chorus of "Drive By." On "OMFG," he explained, "I used to want to kill myself/ Came up, still want to kill myself." He confessed, "I don't want to die alone right now/ But I admit I do sometimes" on "The Song They Played (When I Crashed Into the Wall)."
And those are merely three consecutive songs on 2016's mixtape, Hellboy, which, along with 2016's Crybaby, probably best exemplified the Lil Peep sound: a rough patchwork of moody alt-rock samples that he'd crudely slap 808s onto and then craft undeniably catchy new singalongs over. One song is also christened "Cobain" ("Call me Cobain/ She can see the pain"). He had the words "get cake die young" permanently emblazoned on him, among many other colorful tattoos.
The fuzzy line between romanticization and straight reportage was possibly Åhr's strongest link to hip-hop history, considering artists as disparate as Future, N.W.A and Jay-Z were criticized for glorifying a worldview that they argued was autobiographical. But Peep didn't seem to wish his demons on anyone, even himself, a prolific and tireless songwriter through his struggles.
The sheer amount of art he created between 2015 and 2017 alone — four mixtapes, several EPs and a debut album, Come Over When You're Sober, Pt. 1, that promises it's only "Pt. 1" in the very title — is life-affirming in and of itself. He "had no filter" as they say, stating feelings on Twitter as raw as "I am a depressed drug addict and I'm nearing my breaking point. Everything I love is disappearing."
But his desire to share his feelings was anything but antisocial, and he sang about love just as often as he sang about nihilism. Over a sample of Brand New's notorious "The No Seatbelt Song," he built 2016's "Crybaby" around some key goals: "I'm making music to cry to," "Gonna get a lonely girl, that's for sure," etc. The gorgeous, all-acoustic "Gucci Mane" put Lil Peep's philosophy into a greater perspective: "I can't lie, I might die, baby/ But as long as I'm alive we gonna shine, baby." As much as he sang about death, being alive was the plan. According to the New York Times, Åhr was overjoyed when fans told him his music helped them not kill themselves.
Lil Peep was also, as you'd hope, pretty funny. He was playful enough to call a 2017 track "Interlube," and on a brash Oasis homage called "Yesterday," he sampled "Wonderwall" to sing, "Today is gonna be the day that I'm gonna come back to you/ I know I did a little blow and I never wrote back to you." At the end, someone burps. But the song also features the chant that "Yesterday is not today" over and over, the kind of thing a depressive wants to remind himself of in order to keep going.
He sampled and wrote without paying much mind to how cool or uncool it may be to put trap drums under Death Cab for Cutie's "Brothers on a Hotel Bed" ("Skyscrapers"), or to release the only nonholiday rap tune I can think of that includes the sound of sleigh bells ("Kiss," the Pitchfork-certified breakthrough that is probably Peep's greatest melody).
Lil Peep often sang and rapped about depression and drug use (his cause of death has yet to be officially confirmed, though it's widely suspected that he died from an overdose), but he was also liberal with the word "love." And he created music at a feverish clip that longed to prove that the ugliness swirling around in his head was shared by many, many others. Director Nick Koenig once described "Awful Things," the video he helmed for Peep that memorably features someone in a hot dog costume on fire, as a "glimpse at the unhinged fantasies of a lovestruck teenager." You could apply that statement to any of Peep's music.
Earlier this year, Pitchfork called him "the future of emo," and just on Monday the outlet posited that Peep's willingness to be vulnerable was an antidote to the toxic masculinity of rap-rock's past. Sadly, Peep had barely just begun bringing emo into the future with a message that many of his less woman-friendly influences, like Brand New, have failed to put forward: "I remember Lil peep telling me he is against the sexual abuse of women and people in the music industry... I will continue to push his vision thank you," internet-rap deity Lil B tweeted on Thursday after hearing the news. For a "crybaby" who left this world so young, Peep inspired a lot of people to keep going.