More than 200,000 gallons of oil spilled out of the Keystone pipeline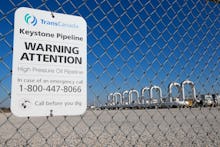 TransCanada, the company that owns the Keystone pipeline, alerted the Department of Environment and Natural Resources to a leak on Thursday. That leak, ABC affiliate KSFY reported, spilled at least 210,000 gallons of oil in South Dakota.
In a statement, KSFY reported TransCanada said crews shut down the pipeline around 6 a.m. Central after discovering a drop in pressure, which resulted from the oil leak. The volume of the leak, TransCanada said, was approximately 5,000 barrels. It added that the pipeline section was "completely isolated within 15 minutes" and an emergency response was activated.
"TransCanada appreciates the collaborative support of local officials, emergency response personnel and commissioners in Marshall County, as well as the landowner who has given permission to access land for assessment, identification and clean-up activities," the company said. It added that it is providing both state and federal regulators with rolling updates.
"The safety of the public and environment are our top priorities, and we will continue to provide updates as they become available," the company added.
The leak comes just as TransCanada is attempting to expand the pipeline, the Hill reported. In January, President Donald Trump signed an executive order clearing the way for the company to build the expanded pipeline, which would run from Alberta, Canada, through Montana, South Dakota and Nebraska, where it will pick up with the Keystone pipeline.