Mic Wakeup: Everything you need to know about Al Franken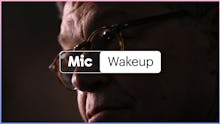 It's Friday, Nov. 17. Here are three stories you need to read.
Los Angeles sportscaster Leeann Tweeden accused Sen. Al Franken of assault
On Thursday morning, sportscaster Leeann Tweeden released a lengthy message in which she accused Sen. Al Franken (D-Minn.) of assaulting her in 2006.
In the post, Tweeden wrote that Franken "put his hand on the back of my head, mashed his lips against mine and aggressively stuck his tongue in my mouth" during a rehearsal for a skit they were performing as part of a USO tour.
Tweeden additionally shared photographic evidence that Franken later groped her on the flight home from Afghanistan.
"I felt like he betrayed my trust," Tweeden said in a press conference later Thursday. "In my mind, I called him 'fish lips' the rest of the trip," she said. "I was just disgusted."
Here's how Franken's fellow senators are responding
Immediately after Tweeden's comments went public, senators from both sides of the political aisle weighed in, with most calling for Franken to resign. At least eight senators also said they would support an investigation into Franken's alleged crimes, including Democratic Sens. Kirsten Gillibrand of New York, Claire McCaskill of Missouri, Maggie Hassan of New Hampshire, Dick Durbin of Illinois, Patty Murray of Washington and Tim Kaine of Virginia.
"Sexual harassment is never acceptable and must not be tolerated," Sen. Chuck Schumer (D-N.Y.) said in a statement. "I hope and expect that the ethics committee will fully investigate this troubling incident, as they should with any credible allegation of sexual harassment."
But perhaps most surprisingly, Sen. Franken called for an ethics investigation on himself.
Here's what happens if Franken resigns
If Franken decides to step down from his role as senator of Minnesota the state's Democratic Gov. Mark Dayton would get to appoint someone to fill the vacated seat until a special election could be held in 2018, the Washington Post explained. This means Democrats would likely retain the seat until at least 2018 as a Democratic governor is unlikely to appoint someone outside his own party.
However, as Franken's statement showed, he has no immediate intention of stepping down.