Black Friday 2017: 5 sneaky signs a deal isn't actually worth it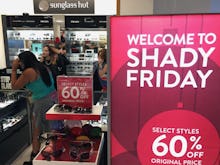 Black Friday is both an adrenaline- and blood-pressure-raising annual event as shoppers stampede their local malls and favorite websites in search of the best bargains of the year. Thirsty to save money, most shoppers follow the breadcrumb trail of advertised discounts and deals — but do those ads screaming 50% or 75% off actually reflect good value? How do you know if your 55-inch LED smart TV is really a better deal at Kohl's versus Best Buy?
Retailers use some slick tricks to compel shoppers to run to their store and spend tons of money, by making us think, for example, that we must buy a product before it runs out — or by raising prices ahead of Thanksgiving week, so that regular price ends up seeming like a deep discount.
In fact, 10% of items "on sale" for Black Friday actually offer no savings at all compared to pre-Black Friday pricing, according to a 2017 WalletHub analysis. Jewelry, clothing and furniture are among the worst deals. "The red cardigan sweater with the ruffled neck on sale for more than 40% off at $39.99 was never meant to sell at its $68 starting price," as the Wall Street Journal has reported. "It was designed with the discount built in."
However, if you know what tricks stores are trying to pull, you'll get better at figuring out which deals are good and which aren't. Here are five ways retailers try to fool you into overspending on Black Friday — and how to outsmart them.
1. Missing product specifications
The best weapon consumers have is comparison shopping. To find out if you are getting a true deal, after all, you need to compare apples to apples — with complete details on the same product before you can make an informed decision. If you are trying to compare 4K TVs, for example, you need to know the size and whether it comes with technology like LED LCD or OLED, which tends to have the best picture, as Consumer Reports points out.
On the flip side, if you don't know specifics, you won't be able to tell is a price is low because of a deal — or because the product is simply lower quality.
That's a problem if you see something like Walmart's Black Friday ads, for example, which have been notably vague: "Based on the Walmart Black Friday ad, the TV sales are not particularly impressive," according to Consumer Reports. "The retailer doesn't always list specific models, so it's hard to fully evaluate them."
How do you get around this?
"If you're looking at a TV, for example, that has no model or manufacturer, you can compare the advertised price to other similar TVs that are the same size, resolution, refresh rate," Lindsay Sakraida, DealNews' director of content marketing, said in an email. "You can usually assume that if the manufacturer isn't mentioned, it's probably not a brand-name device, so you can go into your research assuming that."
Remember: "Model numbers vary from retailer to retailer, so your best bet is to compare TVs from one of the major brands with the closest model numbers introduced that year," said James Willcox, senior electronics editor at Consumer Reports. "Even though you may pay a little more for a major brand TV, you can check performance reviews and the manufacturer will stick by their product." With some doorbuster specials, the retailer may feature an off- or newer-brand TV that hasn't been reviewed, making it a challenge to determine if you are getting a good deal on a solid product.
Consider requesting a 30-day price match guarantee when opting for a major brand TV: "Most retailers will honor a price match guarantee for TVs that aren't deeply discounted, which allows the buyer to continue shopping for the best possible deal," Willcox said.
Even when the model is clear, other details of the offer might be vague, such as contract requirements with smartphones for instance, so read fine print, post questions on social media, and always comparison shop.
2. A hot item that's weirdly cheap
The name of the game is to make the doorbuster deal appear like the very best discount of the season. So if you see a retailer advertising a product you love — like a MacBook Air — make sure it's not so cheap because they are actually featuring an older or inferior version, as Business Insider suggests.
Retailers may even have a product made specifically for Black Friday — that is nowhere as good as the current or juiced-up model, which can be pretty deceptive when you see it partnered with a low price.
While there's nothing wrong with picking up last year's model if it meets your needs, you don't want to be pushed into running to the store for what you think is a deal on something that is probably going to be on sale just about any time during the year.
How can you tell if you are getting a deal on the product you truly want? Make sure the item is the current model, and do your homework by reading details on the manufacturer website and product reviews on sites like CNET, Consumer Reports, Good Housekeeping and Wirecutter.
3. Deep Black Friday "discounts" that give you deja vu
It's hard to resist a giant red and black sticker screaming "50% off!" especially during Black Friday, and it's easy to feel as though you are getting the deal of the century. What you might not realize is the retailer is actually inflating the price ahead of time, only to "discount" it later.
Retailers in 2012 hiked prices by 8% for about one-fifth of the 1,743 products they tracked immediately before Thanksgiving, according to a Wall Street Journal report. In fact, pre-sale toy and tool prices increased by 23% right before Black Friday, and many stores promoted "early" Black Friday discounts, which weren't all that awesome, either.
To figure out if you're being misled, check out places like PriceGrabber., PriceWatch, Shopping or Shopzilla to compare normal prices before you commit to any "deal."
4. Ticking clocks and exploding coupons
Seeing "limited time only" deals can make even the most experienced shopper feel the need to act. And the feeling of urgency can be powerful: About 94% of respondents in a 2014 survey by Vancity, a Canadian credit union, said Black Friday prices were lower during the current year than the year before, while in reality they were not.
Indeed, "door crashers are also an important tool for retailers on Black Friday, building hype and urgency, attracting crowds of bargain hunters and giving an impression of store-wide bargains – yet the reality is often a very narrow range of discounts and even products billed as door crashers may not be especially good deals," the report's authors said.
Rather than give into the need to rush out and spend, head over to CamelCamelCamel, which the tracks prices of items at Amazon to help you determine if you really need to rush out the door, Sakraida said.
"While Amazon doesn't always have the lowest price for every item, it's a good baseline to tell you if the item you're interested in has been at that price before or lower," Sakraida said. "If it's been close to that price before, then you can probably assume that this doorbuster price is something you can get again at a later time."
The only time you may want to pounce on a deal is for a product that rarely gets updated, like a KitchenAid mixer, she added. So if you haven't seen a deal that beats the Black Friday offer, you might want to nab it.
5. Fine print that changes everything
Have you ever gotten all excited for a great deal — only to find out you can't actually get it? Some products might be on sale for only a few hours for the special price, USA Today reported, or retailers that typically offer price matching may not allow for it during Black Friday.
The worst examples of this kind of tactic are bait and switch ads touting awesome deals that disappear so quickly, you don't realize they were just a ploy to get you in the store until you're sitting there empty handed. And now that you are there, you're more likely to just give up and purchase a more expensive model.
The best way around misleading advertising and wasted time is to first check a retailer's website for fine print — and review their return policy, lest you get suckered into a bad purchase in the Black Friday rush. Beware "deals" that seem designed to push you to buy something more expensive, as to Truth in Advertising warns.
Finally, remember that — beyond retailer tricks — you'll want to watch out for even more nefarious actors on Black Friday: namely, criminals and scammers who prey on Black Friday and Cyber Monday shoppers.
"As well as vague and misleading advertisements, it's really important to also check that [they] are from the legitimate company before clicking on them, especially if they are pop-ups," Anna Docking, a consultant from cybersecurity firm Edge Security, said in an email. "Criminals are experts at creating look-alike adverts that appear to be promoting an amazing deal of a well-known brand or product."
Sign up for the Payoff — your weekly crash course on how to live your best financial life.