Co-workers of officer who wore blackface Frederica Wilson costume "didn't know" what blackface was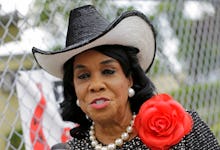 Virginia sheriff's deputy Jean Browning didn't realize wearing blackface makeup and pretending to be Rep. Frederica Wilson (D-Fla.) for Halloween would offend people, according to one of her coworkers.
"There were people in our office who did not know what blackface was," York-Poquoson Sherriff Communications Officer Shelly Ward told Mic over the phone on Friday.
"Personally, I did not," she added. "I had to Google it."
Browning, who is white, wore her costume portraying Wilson, who is black, for a private Halloween party in October, according to the Daily Press.
The deputy attended the event with her boyfriend who dressed up as Donald Trump.
Wilson is the U.S. congresswoman who was attacked by Trump and his Chief of Staff John Kelly in October after Wilson overheard offensive comments Trump made during a phone call to the widow of Sgt. La David Johnson, one of four U.S. soldiers recently killed in Niger.
Facebook photos of Browning's blackface costume began circulating soon after they were taken. The local NAACP chapter issued a complaint on Wednesday, which prompted York-Poquoson Sheriff Danny Diggs to call a press conference Wednesday night.
He announced that Browning would be reassigned as a courtroom officer, ending her years-long role as the Drug Abuse Resistance Education program coordinator for York County schools.
But she would not be fired.
"One of DARE's central missions is establishing positive relationships between students and law enforcement," Diggs wrote in a press release published on Facebook. "Deputy Browning's conduct expressly contradicts DARE's goal by mocking members of the York County community and school division."
During the press conference, Diggs said further disciplinary action against Browning would not be taken because she did not intend to offend with her costume.
"The combined intent of the couple was to convey the message of how funny it would be for two political figures who were at odds with each other to go to a party together," Diggs told reporters. "There was no attempt to either mock or degrade [Congresswoman Frederica] Wilson or [President Donald] Trump."
Browning did not respond to a request for comment.
There's a multitude of stories on the internet explaining the racist origins of blackface makeup and costumes, but Ward says Browning didn't get the memo.
"She, in hind sight, just feels bad she offended anyone," Ward said.